by Anita Foxall.
When poet Andy Buchanan first moved to Southampton, he thought this was a city with a lot of unrealised potential.  Even with its large population, being a university city, many parks, and amazing venues, he felt there was still the opportunity to do more.  And in the intervening 30 years, Andy saw Southampton get even better, although there were also some losses over the past 20 years.
When it comes to poetry, he appreciates how Southampton has always had its own scene, eg, thanks to Joan McGavin and the other local poets in the group she was part of; and then how it developed from there (both in good and bad ways), and that there have been some improvements for local poets.
"Poetry (even if it is in the form of spoken word or slam) has become, shock horror, fashionable, which is good. I think!"
Andy stressed there are really good poets and audiences for it in and near Southampton, including, of course, the musician, artist and poet Greg Gilbert, a deservedly famous example of the talent this city has to offer, and there are many, many others as well (click here to read more) .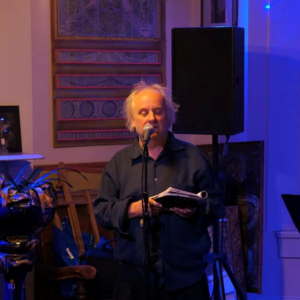 However, he feels a lot has been lost. He remembers how at The Gantry one could regularly see poets ranging from Sir Andrew Motion, Nuyorican Cafe Poets – leading Black and Latino slam poets on tour from New York, Ivor Cutler, Women Writers from Poland, Chinese writers such as Jung Chang and the regularly Nobel Prize Nominated Bei Dao, Benjamin Zephania, McGeogh, Henri, Mitchell and Patten.  These were in addition to seeing regular poets there such as John Cooper Clarke, Atilla the Stockbroker etc, and London and local poets, that one can still see sometimes today in Southampton.  So it seems that, sadly, there is less choice on offer now.   
But this doesn't mean there is no talent in this city, quite the opposite, and Andy is very grateful there are people who have pushed things further by putting on poetry nights, which he and many others have been a part of, giving people a chance to read their work.
Issa Loyaan Farrah and now myself (Anita Foxall) running Write a Note; the Art House with Moving Voices; the 'SO: To Speak Festival' organised by Charlie Hislop, which created many, many opportunities for many local poets to read "including me putting on some extraordinarily good local poets to read on a bus!"; Damian O'Vitch and Jayne Ede for Hammer & Tongue Slam nights and for creating the opportunity for a couple of winning Southampton poets to go and read in London, which is extremely rare and much needed; the 451 Nights at the Nuffield organised by Pete Hunter and hosted by Ricky Tart were sadly lost, they brought great poets from Apples and Snakes, but also allowed local poets to perform on an open mic for a short spot to open the night; and Matthew West of ArtfulScribe organises workshops for women and young people, and more, etc.  
Andy is very much opposed to the "London-centric cultural colonialism where the cultural traffic is all just one way"; and that is precisely the reason why he brought out the New Southampton Poets book to try and promote the work of some of the amazing new award winning or published poets who are or have been part of the poetry scene in Southampton – Dave Hubble, Kayleigh O'Reilly, Damian O'Vitch, Angelia Saplan, Stewart Taylor, and his own work.  And he says there are, of course, other good local poets. "Support your local creative communities" is his imperative message.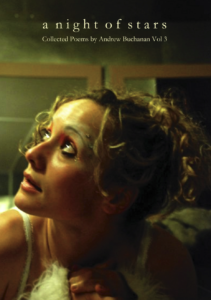 Andy said he has always written, and confessed that he had his poems lying about in various states: half finished, neglected and almost forgotten about. And after a few readings in public, though only occasionally, he was led to believe that some of them were quite good, but he never found the time to do anything about them, and he wasn't sure that anyone would even be interested in them.  However, one day his then girlfriend found some poems, including ones he had written about ex-girlfriends, which made her not speak to him for three days.  And so this made him consider that there might possibly be more to them than he had previously thought……! 
When it comes to his own writing, Andy gets his inspiration from real life, because for him it is the most honest and genuine form.  He says: "I much prefer to wait for the muse to strike, so to speak, be it someone I have met, or something I have read, or something that makes me feel something". Though he says he can, like many poets do, write to order, he finds that when he does it tends to sound contrived, overwritten, and lifeless.  However, he finds it difficult to get inspired enough to write something genuine, and says he needs "the muse to come to call.  But she is unfortunately, somewhat unreliable!"  He says this means that he can spend months and months in an uninspired state! 
Above all he gives value to what is genuine and sincere. Therefore he states that on a personal level, he has absolutely no interest in trying to come across as clever or as a "wordsmith". It's not something he condemns, as he has poet friends who are great at that, it is simply not for him. He is focused on what is immediate and accessible, and hopes that  when people read his poems, they can immediately recognise that there is something real in them, which hopefully they can relate to as well.
Influences
Brian Patten, whom Andy has met a few times, has always been a great influence, but he admires other contemporary poets too: Li-Young Lee, Sarah Howe, and going back a bit, E E Cummings and Yosano Akiko.  And while he likes and rates all the poets in the New Southampton Poets anthology highly, they cover such a wide range of very different styles, from poems for the page to poems for the stage to both, that the works of two of the poets in the anthology Kayleigh O'Reilly and Angelia Saplan are particular favourites of his just for purely personal preferences.  However, he feels all these six poets' works stand up in any context, not just a local Southampton one.
 He loves Japanese and Chinese Classical poets as well, particularly Izumi Shikibu and Ono no Komachi, who are two of his favourite poets.  Quite modestly Andy thinks that the influence these poets brought into his own poetry is simply in their economy of form, and that he could only dream that his work was good enough to be influenced by them.  He likes to keep his poems short, because it makes them polished and perfect on the page.  However, when he started performing live more regularly, he felt shorter poems didn't work so well, so he started writing longer and looser poems.
Though in Southampton we know Andy best as a poet, he has worked right across the arts, both in the performing and visual arts, commissioning, curating and promoting artists, including supporting many local artists, in order to try and help them become successful.  All these forms of art are so important and so intrinsic to Andy's life, he wouldn't be able to pick his favourite, but as an audience member, dance may be the most important for him, and he has friends who are dancers. Dancers deserve his complete admiration, he says, because "you not only have to be an artist, you also have to be an athlete. You have to train hard, audition and compete with other dancers, you have to learn other choreographers' work and dance in time with other dancers."  He adds: "poetry is very easy in comparison!" 
Publications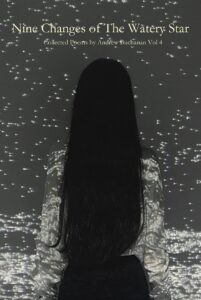 Andy has a few poetry books published, and his most recent one Nine Changes of The Watery Star covers themes that he considers important, and that he hopes will equally resonate with the reader. "They all cover a range of these different themes, just the balance of these different contents may shift ever so slightly depending on what I am feeling or thinking at the time."  His writing has also been translated and published in Korean and Mandarin Chinese.
His first book Days Like Leaves was a real retrospective collection of work which goes back a very long time, as far as when he was a student, and was young, foolish, and in and out of love all the time.  
His second book Tangled Hair was contemporary and was when he was older, still foolish, and nostalgic for that earlier time!  
His third book A Night of Stars, while still containing the same range of themes, is probably more serious in tone. 
Nine Changes of the Watery Star is a slight reaction to that and is a little lighter in tone.  It was written over the first lockdown period, and so part of it was inspired by the enchantment of going out in the city at night.  Above all, he is just trying to make his writing simpler and more direct.
To the new poets
If you are new in the poetry world, this is the advice Andy has for you: "Keep it up.  Keep notes.  Write bits of stuff down.  Not everything you write is going to be brilliant, but some will be good. The only way to do it is to do it, and the only way to get better is to do it more.  And edit it more."
But Andy also reinforces the importance of reading and seeing other poets perform live, and then taking it further and reading in public yourself. 
Andy doesn't consider himself a particularly good performance poet, as his work is quiet and thoughtful, which he thinks doesn't always suit the big performance treatment.  However, he considers that reading in public enables poets to have some feedback, from people who are not their long-suffering partner or friends, who will always say your work is good, either to encourage you or to shut you up!
"So keep it up and do it for yourself."
And so that you can experience some of the magical force of Andy Buchanan's first hand, below are a few of his poems.
Poems
All the light in the room 
She captures
all the light in the room
And bends it around herself
Without even trying 
Because, like you and me
it wants to be near her.
As if it too cannot escape
the gravity of her beauty
My Days Crash Down 
My days
crash down
around me
silent waves
in unperpetual motion 
My time
slips past
unnoticed
like water flowing
under a frozen river 
I trace the
arc of the wind
in the gull's flight
and wonder 
How strange to forget
when it
burns like a fuse
inside us all
She's like a box of fireworks 
She's like a box of fireworks
but someone's lost the match
With a mind that's like a catherine wheel
unfurling whirls of light 
She's like a trove of treasures
which has been broken into and stolen
So she cries herself to sleep sometimes
in anger at what's befallen 
She's like the brightest diamond
but hidden in the dark
She'd shine her light on all your lies
and cut you to your heart 
She's like a box of precious jewels
but she's thrown away the key
But if someone else could find it
I hope that someone could be me 

For my Mother
My mother
lies in the hospital bed
she can't really hear me
and can't see me
so I hold her hand
she's lying in the fetal position
that's how we're born
and how we die
and if we are lucky
with someone to hold us
if only for a little while
'All The Light In The Room' from 'Nine Changes of The Watery Star'.  'My Days Crash Down' from 'New Southampton Poets' & 'Days like Leaves'.  'She's Like A Box of Matches' from 'a night of stars'.  'For My Mother' from 'Tangled Hair'.  
 All poems © Andrew Buchanan