by Martin Brisland.
Charles Smith lies in the graveyard of St John the Baptist church in North Baddesley. At that time, it wasn't often a poor man had one, let alone two tombstones side by side.
In the early 1800's country gentlemen and wealthy merchants controlled society. As Justices of the Peace in the local courts they ruled the common people.
It was a time of unrest in the countryside. Perhaps the most famous case is of the Tolpuddle Martyrs, six farm workers from Dorset. In 1834, they were convicted of swearing a secret oath as members of the Friendly Society of Agricultural Labourers and transported to Australia.
The Acts of Enclosure reduced the areas the poor could lawfully hunt game and the 1816 Game Laws protected the hunting rights of landowners. The poor often struggled to feed themselves and their family. Even catching a rabbit was made illegal. Gamekeepers had been given extensive powers to enforce the Act. Often the gamekeeper was a former poacher and despised by the local community for the brutal treatment of his fellow men. Spring trap guns and snares were frequently left in place to capture a poacher. If caught there were severe penalties, including possible transportation for even possessing a net.
On 22nd  November 1820, Charles Smith, accompanied by his brother-in-law John Pointer, went poaching carrying arms. The land was part of the Broadlands Estate, Romsey. It was owned by Lord Palmerston (1874 -1865) who was twice Prime Minister and has a statue in Palmerston Park, Southampton.
Smith, a known poacher, was caught by Robert Snellgrove the gamekeeper's assistant who heard a gunshot around 6pm on November 23, 1820 in Home Coppice.
Snelgrove placed himself against a tree to challenge the intruders if they broke out of the coppice. When they did, Snelgrove went in pursuit, soon catching up with John Pointer. Snelgrove then caught Smith, who he had known for many years. Smith shot into Snelgrove's thigh but did not kill him.
On March 4th 1822 Charles Smith appeared at Hampshire Assizes (replaced today by Crown Courts), Winchester charged with maliciously shooting Snelgrove with intent to disable or commit grievous bodily harm. Pointer was a willing witness for the Crown.  "I was in the coppice with him and saw him with the gun which he fired," Pointer told jurors. Whether he had potential proceedings dropped in exchange for giving evidence is unknown.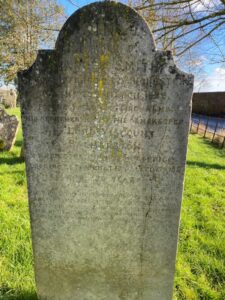 A friend, described as "a person of great respectability," testified to his previous good character but the weight of the circumstantial evidence was against him. Smith was convicted and executed.
His execution led to a newspaper article that said this might be:
"a salutary check to the destroyers and purchasers of game. Since, they who encourage others in the commission of crime, must largely participate in its guilt."
Unusually, his body was brought back to North Baddesley by his friends and family. According to the parish register he was buried in the churchyard on the 23rd March 1822, aged 29, not as the headstone suggests 30 years old.
The first stone is thought to have been erected by Botley resident William Cobbett (1763-1835), whose writings, in particular Rural Rides (1830) and radical politics championed the poor.
The second stone was erected by the Honorable Evelyn Ashley, grandson of Lord Palmerston in 1907. It refers to papers held at Broadlands which show petitions were made on Smith's behalf. Palmerston himself felt moved enough to unsuccessfully plead for clemency in a letter to the presiding judge, Justice Sir James Burrough. On passing sentence he told Smith "Do not entertain the distant idea of mercy being extended to you."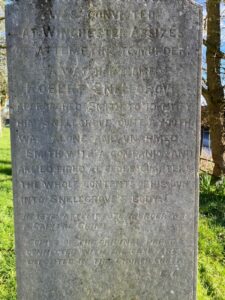 On March 23, 1822 Charles Smith, 29, was awaiting execution at Winchester Jail where he told the visiting Chaplain, "My poor mother always told me what the end would be. I then thought little of her advice but now I feel the full force of it."