I became a single mother in August 2019, when I moved nearly 100 miles away from the life I'd built in London over the past 12 years, to start again in Southampton, when my marriage ended. The main thing that struck me was how much easier it was to be a single parent, than a parent in a failing marriage. We very quickly settled into a new normal, surrounded by a huge group of friends who were a great support, and we very quickly forgot our old life. 
I was very fortunate to get my eldest into a lovely school who have supported him with the transition, found a perfect nursery for my youngest, and was able to quickly find a job that I loved.  
Then a global pandemic hit. 
It was during the first weeks of this pandemic that it really struck me how much harder some things were for single parents. 
The Single Parent equality campaign (read more here) focuses on the big, important issues that affect a large majority of Single Parents, and although it's really important to tackle these, I have found that it's the more mundane things that have been more of a struggle as a single parent. I have a very supportive employer who understands the challenges of single parenting and has afforded me a huge amount of flexibility. Within a few weeks of starting the role I had to ask to change my hours, because despite having a critical worker school place there was no wrapround care, meaning I wasn't able to work outside of school hours. Where I'd once relied on a patchwork of childcare cobbled together between friends and family, I was now only able to use registered childcare. In later lockdowns we were able to access a childcare bubble, but mine had a job of her own which meant she wasn't on hand for last minute emergency school pick ups. I'd usually call another parent, but we weren't able to mix bubbles, so I had no choice but to do the pick ups myself every day. When I broke a tooth before Christmas, it was a struggle to fit an appointment in around school hours and work because of the lack of options for childcare and I was in pain for a number of days, when usually I'd just ask another mum to pick the kids up while I finished my appointment. 
There was also the problem of lockdown not really meaning complete lockdown, but with enough services closed to make life wholly inconvenient – and a lot more expensive. We were finalising child arrangements through court when the first lockdown hit, and courts closed. But hearings didn't stop, they carried on online. This was before childcare bubbles were allowed, and before critical worker childcare was finalised. I was expected to attend the hearing, and I had to confirm that nobody was present in the house while I attended.  My options were to request an adjournment, which could have appeared as though I was attempting to prevent contact, or to send my children to someone else's house breaking lockdown rules. When making the decision to continue hearings online the courts gave no regard to the childcare conundrums that single parent parties to the hearings would face, and there was little flexibility offered for the respondents. The requirements for submitting documents didn't change either, but my access to a scanner and printer did. It ended up costing me over £500 to get someone else to scan and print documents for me – money which came from savings that I was hoping to use for a deposit on a house for me and the children. 
Lack of available childcare during lockdown has meant other aspects of life have been more challenging even outside of work. I am applying for a part time university course and co-ordinating an interview with three interviewers during school hours and outside of working hours was a logistical nightmare. I have recently taken on a volunteer role, and the same challenges apply to the required training. These things are vital to me to maintain my mental health and work towards a better future for my children so I consider them essential. In two-parent families, there would be some possibility of sharing the load, but single parents don't have that option.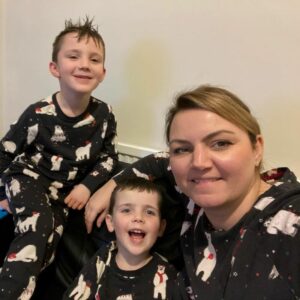 Preservation of our mental health during covid has been in equal amounts paramount, and impossible. My idea of self-care is paying for a couple of hours of cleaning or ironing, or finally getting someone with the appropriate tools and skills to fix the broken bits around my home. But lockdown has meant that we aren't allowed to delegate most of these tasks, leaving us to deal with it by ourselves. For full disclosure I wasn't completely single during for the entire period, and have been seeing someone very lovely for a number of months. Having adult company was a huge help and I am glad he has been able to support me through lockdown. But it's early days, and when he asks if there's anything he can do I am fairly sure he means can he put the kettle on, rather than would I like him to iron a week's worth of school uniforms or change the bedding. I've seen many reports of people moving relationships on very quickly during covid and living together sooner than normal, and that's really not an option when there are children involved who need stability now more than ever before. 
Single parents with shared custody missed out over Christmas when visiting rules changed. Any children who were with only one of their parents on Christmas Day will have missed out on visiting the family of their other parent. In many cases they won't have seen most of their family for nearly a year, so by making the allowed period for mixing just one day, single parents missed out on a special Christmas time with their children. My children were with their Dad, which means none of my own family were able to see them at Christmas.
Aside from covid, there are various other ways in which single parents – and often their children – are disadvantaged. School admissions policies for faith schools often require a signed letter showing attendance to church on a weekly basis. This is often not possible when children spend alternate weekends with their parents, often many miles from home, and sometimes with the other parent who doesn't share the same religion, meaning they are unable to attend a school representing their own faith. My own sons attend a very lovely Church of England school, but it's not our religion, and I can't get a space at the Catholic school because they are unable to attend every week. 
Some schools held parents evenings by phone this year, but in our case that meant only one parent could attend. We were so fortunate that the teachers made exceptions and phoned both of us, otherwise one of us would have missed out. Simple changes such as using a Zoom or Teams conference would have allowed us both to attend and discuss any issues together. 
Alternate weekend access is a problem in many other ways. Most extra-curricular activities require payment for a term in advance and attendance is expected every week. In the case of children who travel to see other parents, or whose other parents are unwilling to take them to these activities, the other parent is faced with the option of telling their children they cannot attend, or paying for weeks that they won't be using. In our case this applies to swimming lessons. There are no other lessons that we can attend around my work commitments other than a Friday night. Their father has them alternate Fridays and doesn't want to take them to the 20 minute lesson during his time. I am scared of water, and both of us agree it's a vital life skill that we are keen for the boys to learn, but I can't justify paying for weekly lessons for them to attend only 50 per cent. 
The Single Parent equality campaign is vital to end discrimination based on parenting status, but one of the biggest ways we can change this is by being aware of single parents' needs, being flexible and adapting policies that may inadvertently discriminate against single parent families. After all, swimming lessons may seem like a trivial issue compared with workplace discrimination but it could literally be a matter of life and death.