by Nathan Goldsmith.
Bursledon has always been a place that has meant a lot to me. It's a place I've journeyed to since I was a child – with my family and family friends – and now, exploring on my own or taking my friends with me, I still feel that childhood buzz. Crabbing on the pontoon; adventuring across the riverbanks and marshes – rushing to get back before high tide; building dens; identifying trees. It's hard when a place is so beautiful and serene and holds this many memories to not be overwhelmed upon returning.
As a child, I wasn't aware of the important history this place held. For me, it was somewhere to play under warm suns and beautiful sunsets (I remember my earliest memory of the river was taking a photo of a glowing, orange sunset on my mum's phone, and telling her I would write about it one day. Some ten years or so later, here I am). The park is set over 356 acres yet despite this, and despite my numerous journeys here, I have only circled the same area each time. I quite like that – places that are important to you have a funny way of bringing you back.
This time, however, I wanted to walk as much as I could in a day… the entire river.
The River Hamble, which runs through Bursledon in Hampshire, can be best accessed via Manor Farm Country Park, or from the train station, just a fifteen-minute walk away. Like a lot of the south coast of England, Manor Farm Country Park played its part in World War 2 naval operations, and before being opened as a park was home to HMS Cricket, a Royal Navy shore establishment, or stone frigate, from 1943 to 1946.
The base, after initially being made as a Royal Marine landing craft crew training base, was used to assemble troops and landing craft in the build-up to D-Day. From 23 May 1944, during the final preparations for D-Day, the base was completely sealed. It was decided to close HMS Cricket after the end of the Second World War. The last arrivals were on 20 May 1946 and HMS Cricket was decommissioned around 15 July 1946, three years after commissioning. Its buildings were used for temporary post-war accommodation for the civilian population of Southampton and the site was renamed 'The Cricket Camp' until 1952 when it was no longer required.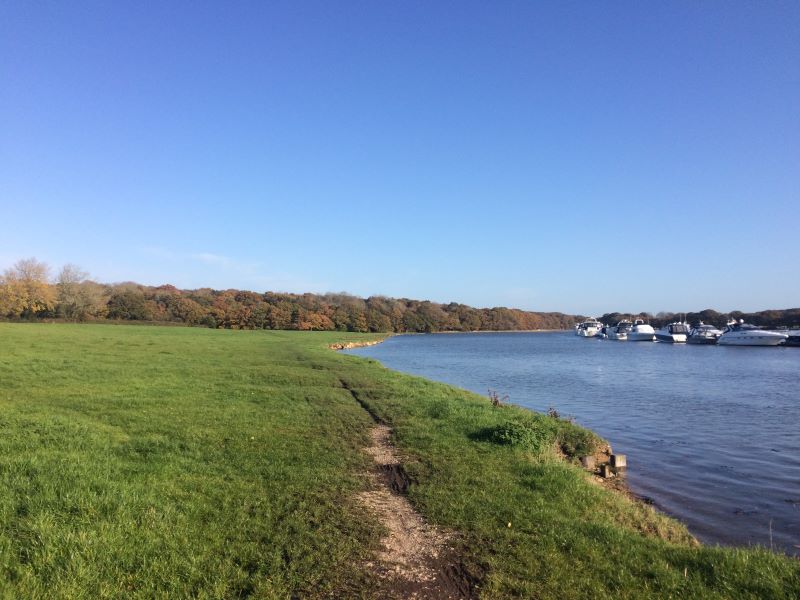 The park first opened in 1979 and the ancient duck pond within the park and the neighbouring St Bartholomew's Church are mentioned in the Domesday Book. There is evidence of a Roman road running through the site, which would have been the route between the Roman settlements of Clausentum and Portus Adurni – now Bitterne Manor and Portchester respectively.
My walk began from the train station and through the local marina, where a winding road takes you to a working family farm. Behind this farm is a wooden stile, which takes you out onto evergreen fields, where boats and paddle boarders made their way up and down the river, which glistened green and frothed foam on the verges as the water lapped up. Despite a dual carriageway overhead – not ten minutes away – it was very quiet and became quieter still.
Crossing over the fields and making your way into the trees, over a bog and onto the stoney path which leads to the pontoon, the view out is simple yet beautiful. In the UK we have mountains, open green spaces, 'Areas of Outstanding Natural Beauty', but for me, being by the river is where I find myself reflecting the most.
Wallace J. Nichols, the author of 'Blue Mind' and a marine biologist who studied the Pacific Ocean, is somebody I highly respect. His study, over five years, concluded that being in and around water makes you happier and healthier. 'Blue Mind', according to Nichols, is a form of meditative state we find ourselves in when in and around water. It's the opposite to – the remedy of, if you like – the 'Red Mind', which is the state we find ourselves in in this modern world – being over-connected and over-stimulated.
I think we can all find a connection with Nichols in what he says. Whether you're a countryside, lake and river dweller like me or somebody who can't get away from the beach or pool, we all have an inherent, old connection with being in and around water. For me, water provides that peaceful backdrop to an escape from the city, a place to reflect and be quiet, retreat to and scan ourselves for this 'Red Mind' way of thinking.
Perhaps you're reading this and thinking of the pond, lake, river, beach or pool that takes you instantly into the 'Blue Mind'. A place you have a childhood connection with, or a newly formed connection thanks to exploring during lockdown or a holiday. I think it's so important that we all take ourselves back there from time to time.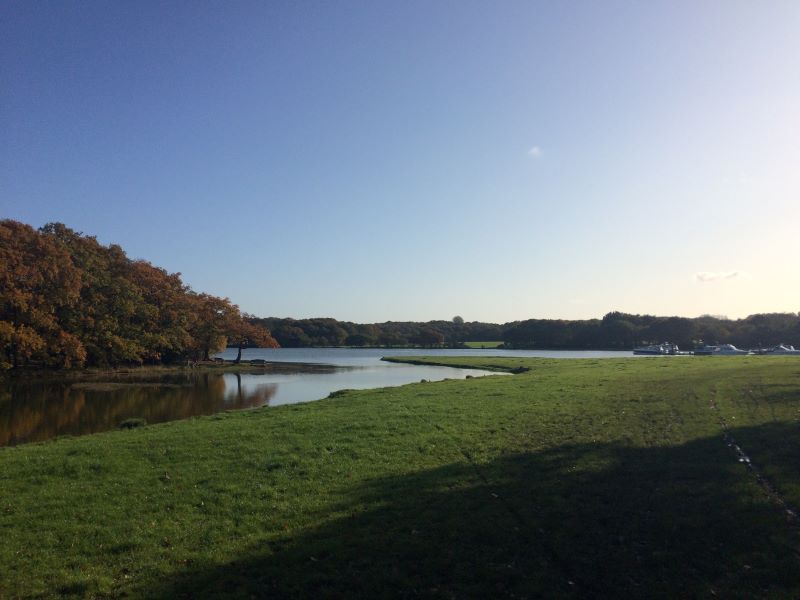 There are twists and turns continuing through this journey and sometimes you need to be careful where you're treading – the stony path continues down onto the soft underfoot river banks, where swifts were drinking water on the wing, Canadian geese honked at me if I dared look in their direction, and a couple of sparrowhawks showed their faces briefly. It's a great reminder that the countryside is for us all – animals and humans alike. The pontoon, usually lined with families crabbing and picnicking, was the quietest I have seen it.
I continued from the pontoon, but there is a loop back to the park or where you started for those looking for shorter walks. It's from here where things become harder, though – the forest trees thicken out and the path becomes less obvious.
With the weather changing, I went through the trees and after several inclines later, I arrived in some open rural fields. Old trees lined the edges (with a mixture of leaf coverage), the hills rolled up and down, birds came to the ground for food and lifted off again, the river reflected the sun in the background; it was a quintessential British portrait. Standing in the middle of these beautiful fields and scanning my horizons,  I was reminded of the fields and woods near my home which have been taken over by housing developers and have become almost unrecognisable. Houses are needed of course – more now than ever – but it's a constant, stark reminder that humans can overpower and manage nature in a flash, taking away these places we hold so dearly. But ultimately, nature reacts too. Climate change, rising sea levels, both consequences of our doing and a reaction from the earth. And we're now having to react to that – react and manage nature, all over again. Will we ever learn our lesson?
For now, these fields are safe. And for that I'm grateful. I realise I've reflected a lot already on this walk. Different things come to mind so clearly when you can stop and take in your surroundings somewhere like this.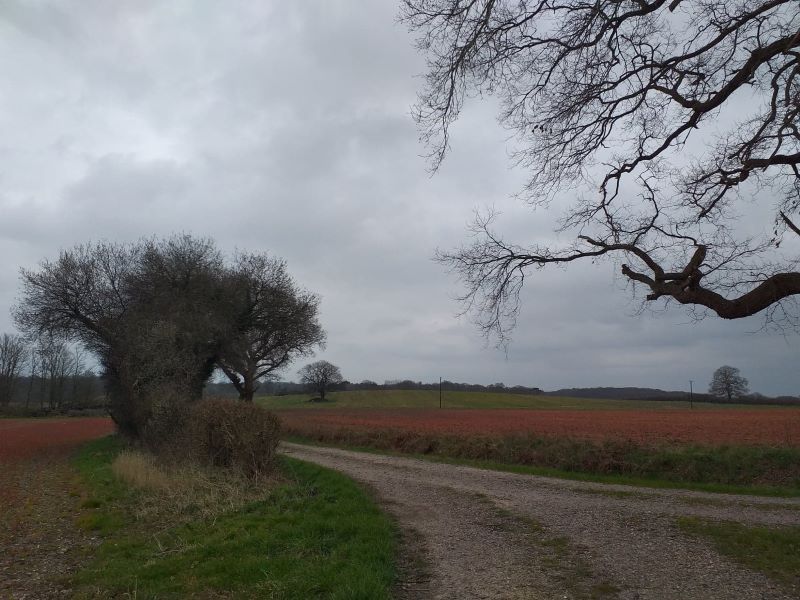 The river is my constant companion, and I don't want to know how many steps or miles I've walked. To measure the distance I've covered seems contrary to the reason I've escaped out here for the day: to be off my phone, taking in the fresh air and simple beauty of my surroundings, and retreating from over-connection and overstimulation.
Being out here, rambling, with no set direction nor purpose, no time limit nor step count, things are much slower. For me, that's something I'm always trying to find. I don't use many – if any – social media platforms, I don't enjoy the hustle and bustle of modern life and work, but for those who do, I'd argue places like these are even more important for them. These places should be somewhere to get away from that entirely – to turn off your phone, not check your messages, your emails, the number of photos you've taken. To be in the moment and truly appreciate being off the grid for any amount of time. And for me, I come out of my comfort zone too. I work in a fast-paced job, I continue using technology that exposes me to news pings every hour, or notifications for apps I'd rather not see or use ever again. But nothing will ever beat being out here. It is something else entirely.
It became slowly apparent in these fields that I could go no further. I had already jumped across smaller deviations of the river to continue, made my way between trees, through hedges and vast open spaces, walked across the river bank trying not to sink too much, which now seem to be the peak of my adventure. All that stood in my way was the overgrown cattail and reeds which act as a barrier between you and the village, where the river thins and finishes. I'm happy to concede here, though – I've walked all of the river available to me, and had achieved my goal. It was time to head back.
Luckily, the park management is excellent, and whilst it may feel like you're hundreds of miles away from civilisation, it's not too hard to find a route back to the country park. Even on my journey back, I didn't encounter anybody else apart from a few in the very distance.
On the return journey, at extreme low tide, you can see the remains of the wreck of Henry V's 15th-century warship Grace Dieu. I meandered through the way I came, which always feels much shorter than the journey you take getting there. 
I left Bursledon with a refreshed feeling. It hasn't changed since I was a kid, and I'm so glad of that. I reflected on lots of different things whilst I was there: I discovered history, I had a chance to reset, and I made it to the end of the river.
There's a great deal to be said about a place like this – one of such importance to you personally, of really simple beauty – where you truly find yourself in the peace and quiet, even if just for a moment.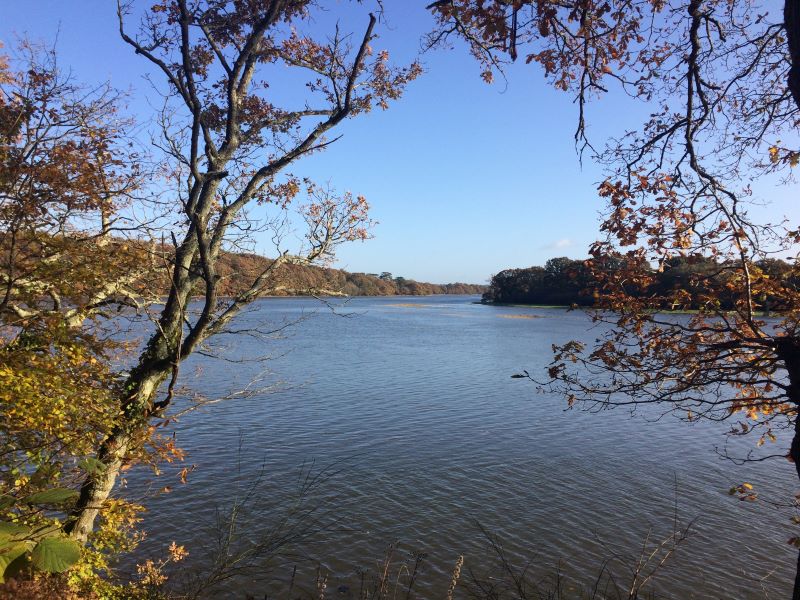 Cost: Free. Parking (paid for) available at Manor Farm Country Park, or walk from Bursledon train station.
Accessibility: The walk from the station is flat and through a marina. You can access the walk further along from the country park, down the signposted tracks. Stiles, mud and uneven ground on the route I took. 
Facilities: Toilets and refreshments open each day of the week at the country park, close to the carpark. Beyond that, nothing!