Last week (23rd July) Portswood-based activist and volunteer Phine Dahle hosted a tea party with a green agenda, and a pop-up garden to bring nature into Portswood high street. Invitees Alan Whitehead, Shadow Member for Energy and the Green New Deal, and Councillors Satvir Kaur and Gordon Cooper joined her to support the event, held outside independent bookshop October Books.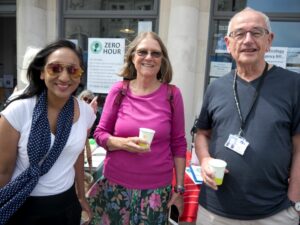 The event was a community effort to build momentum for the upcoming Climate and Ecological Emergency Bill, created by Zero Hour (formerly the CEE Bill Alliance), to urge the UK government to act on climate change.  
Cakes, paper cups, and posters for this event were provided by local retailers K's Market, November Express, and Waitrose. The unique pop-up garden was designed by artist and rewilding expert Henrik Dahle, and volunteers distributed leaflets to describe the bill and the dangers of climate change. There was a great deal of footfall past October Books and many people stopped to have tea and cakes and talk about the bill. 
Further support was given by the staff from October Books, Southampton branch of Extinction Rebellion and Sue Swallow, 'Queen of the Greening Group' and Vice Chair of the very successful Outer Avenue Residents' Association. 
Organiser Phine said, "In 2019 our present government declared a climate emergency. Since then, not enough has been done to protect our country from floods, fires, and catastrophes which are happening already in other parts of the world. Today's tea party was just the first of many events to get this vital message out and build a groundswell of local interest. The CEE bill outlines clear solutions to tackling the climate emergency and Southampton has always been at the forefront of environmental progress. I am hopeful our Council will commit to being climate neutral by 2030 and begin reversing the climate emergency, and breakdown of nature being faced by the UK and beyond. Thanks to October books, friends, neighbours and members of OARA and the public for making this such a successful event."