by Katie Isham.
If I told you that this Suburban Safari visits Valley Gardens, would you know where we are? I'm not sure many residents of Southampton could point it out on a map. But I guess that's the thing with secrets; there's always an element of secrecy.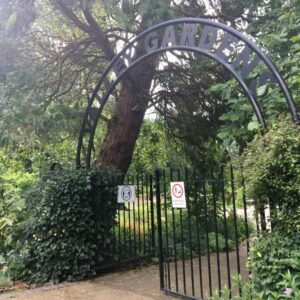 Small disclaimer – Southampton University, please don't ban me from the gardens for singing the praises of your treasured premises from the top of the (bat-box adorned) trees and sending everyone there to disturb the peace. 
Valley Gardens are sometimes referred to as the secret garden and it's not hard to see why. Firstly, you'd have to know they were there to find them. Nobody stumbles across the entry gate by chance. There is low footfall in this particular area of Highfield Campus, in the shadow of the back door to the Student Union. 
Secondly, these are gardens truly worthy of a secret world. Nestled in the valley of the campus, there is a ribbon of nature sunken into the landscape. You may wander off your usual route to find them and you may wonder if it's worth the effort, but by botanicas, you'll be glad you found them. 
I defy you to enter under the metal moniker and not say, "wow". It's a garden view that astounds from the start. Right now, as summer is still firing, the borders are ablaze with light and texture. The grass glows, the trees encircle you with their rich bounty and every hydrangea, fuchsia and lily is positively overflowing with colour. The pictures do not do it justice. 
Summer is also the best time to visit for us city residents. With the university yet to welcome its learners, the gardens are as peaceful as you could dream. Make hay whilst the sun shines, I say.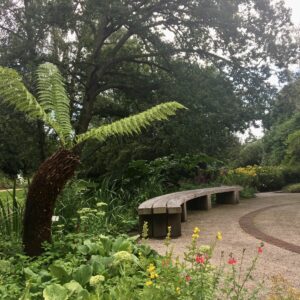 The joy of Valley Gardens is found in its serenity. There are several seating areas where you can relax and immerse yourself in nature, far away from everyone else. Sit above the wildflower area and watch as the pollinators do all the hard work. Find a bench snuggled into the vibrant borders to disappear into. Lounge around on the curved seating area by the tropical trees to breathe in the atmosphere. 
If you're more of an adventurer, follow the boardwalk on a safari to spot some newts or slowworms. The best thing about this path is the giant gunnera leaves overhanging the walkway. Stoop under this prehistoric undergrowth to guarantee passage back to childhood days of make-believe magic in the back garden. You cannot fail to smile when you realise how small you really are, even in our quiet corner of the world. 
A wildflower meadow spawning fluffy cotton dreams, staggered stone steps leading to somewhere, tropical palms pointing towards heaven, walls of mass flowering foliage, towering trees, a trickling stream, lush lawns, birdsong, bridges, ponds, peace. This place is ridiculous. 
If you were on holiday somewhere, you'd pay good money to enter. Thanks to Southampton University and the team restoring and maintaining these grounds, we can escape to this tropical paradise any time we like (well, almost – Monday to Friday during office hours).
Get down to the valley to relish some peaceful botanical beauty before space is at a premium between PhD students reciting poetry and freshers picnicking with that week's chosen beau.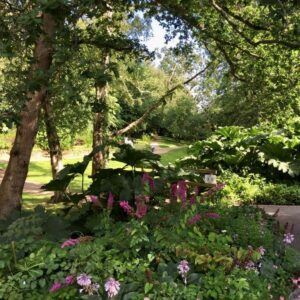 Cost: Free entry to the gardens. 
Accessibility: The gardens are accessed through Highfield Campus, behind Jubilee Sports Hall. Limited parking around, on street or in car parks. You'll find Uni-Link buses aplenty at Highfield Interchange. The gardens themselves are a mix of paved walkways, gravel and boardwalk with a few steps up and down levels. The gardens are only open Monday to Friday from 8.30am – 5.00pm. 
Facilities: Plenty of peace and quiet and not much else. Toilets, shops, cafes and Southampton University facilities nearby.