by Tom Wardle.
One Saturday morning in mid-March 2020, I was invited down to the Guildhall to cast an eye over Southampton's preparations for the coming Coronavirus pandemic. At that point, nobody really knew what to expect, whether it was safe to so much as touch a door handle. Nevertheless, it was immediately obvious that the city and the rest of the country could quickly be overwhelmed quickly by this virus. Regardless of whether the council was prepared, hundreds of residents of Southampton had already began to organise their civic response to this potential public health catastrophe, as part of the Southampton Coronavirus Mutual Aid Group.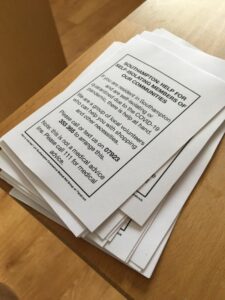 Amidst the concerning news coming from overseas and the daily briefings, 'mutual aid' groups were being set up on social media throughout the country. Inspired by these examples, the Southampton Coronavirus Mutual Aid Group [SCMAG] was set up on the 15th of March 2020 on Facebook. A couple of days later, a SIM card was placed into my girlfriend's battered old iPhone (where it continues to reside). The purpose of this was to act as the 'Isolation Hotline', which citizens of Southampton could call when unable to leave their own homes. WhatsApp groups were set up in each ward of the city to share these requests, as well as information and a broad sense of community. A Slack channel was established to try to coordinate these efforts to muddle through the madness. From these groups, an army of foot soldiers was swiftly mobilised to post flyers with the phone number through as many doors as possible. 
Since those early days in March 2020, the SCMAG Hotline has recorded and responded to over 8,500 calls; a staggering 500 a month on average. On the 31st of July 2021, the Hotline was put on pause. Lower numbers of callers and responders might be a welcome indication that the world is going back to normal. Fortunately, community organisations with much surer foundations (such as Southampton Social Aid Group) and statutory services are now ready to take on the mantle from those frenetic initial efforts.
Nevertheless, importantly, just because the hotline is closing does not mean that this is the end of SCMAG; the Facebook group and the WhatsApp groups will be continuing. Although many restrictions may have been lifted, we are likely to see the after-effects of this virus for years to come so if you can, please continue to shape these groups and to contribute, allowing these to be places of community action.
Over 16 months, the hotline has had to navigate many of the choppy waters produced by the pandemic and has evolved in line with the needs generated (or exacerbated) by it. Accompanying many of the desperate circumstances caused by  the pandemic, there were success stories of attempts to remedy their effects.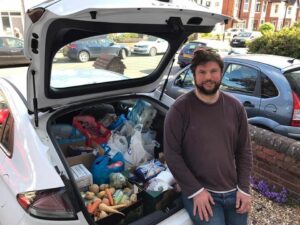 It was revitalising to hear in those early days that a group of people had successfully delivered Calpol to a young family. Or to hear about neighbours helping one another to move furniture out of a house. In the summer, people collaborated with FareShare to deliver surplus food to anyone that needed it and the first food bank collections were organised. SCMAG members were at the heart of Marcus Rashford's campaign in Southampton to guarantee school meals during October half-term. On Christmas Day, members were calling up the elderly cut off at Christmas to be a listening ear. Indeed, throughout the pandemic, residents of Southampton have taken it upon themselves to collect shopping, prescriptions and food parcels for their neighbours. 
Throughout this time, there have been debates about what constitutes 'mutual aid'. People approached it from different angles: for some, it was a simple act of kindness, whilst others were drawn in by Kropotkin's theory of 'Mutual Aid'. I've often joked that we are a coalition of good-willed grannies and anarcho-syndicalists. Nevertheless, in the face of a crisis such as a global pandemic of this magnitude, the common thread has been creating a symbiotic community in Southampton in which people can in equal measure help their neighbours however they can, whilst also knowing that they can count upon that same support should they need it.
Nobody has done this because they sought fanfare but the truth is, they deserve it. More than anything, I want to put on record my admiration and gratitude to every person who over the last 16 months has taken a phone call, has shared a useful link, has braved the local supermarket, has worked some technical magic behind-the-scenes, has cleared their cupboards for a food drive, has walked a dog or looked after a guinea pig, has been part of the Facebook group or a WhatsApp group, has posted a flyer, has coordinated a WhatsApp group, has babysat the hotline handset, has delivered a food parcel, has come to a SCMAG meeting, has explained how to change a tyre, has done anything to simply look out for their neighbours and improve their community, however big or small.
 It's been a disorienting 16 months with so many twists, uncertainties and lockdowns. For me personally, I'd be lying if I said it hadn't been arduous at times but seeing these genuinely astonishing acts of solidarity has helped me keep my head above water. A lot of people have come and gone from SCMAG, or joined at different intervals, but through it, I've reconnected with old friends and made new ones, many of whom I am still yet to meet! Hopefully we will never see another crisis like this in our lifetime but if we do, we all now know the strength of community action and co-operation.
 Solidarity.