by Nathan Goldsmith.
As summer turns to autumn, I take on the third and final part of the Itchen Navigation from Southampton to Winchester (parts 1 and 2 here and here).
This part of the walk is the shortest (around 4 miles) and begins from Shawford Station, following the route from Shawford Down to Twyford Lock and then on to Winchester.
The walk to Twyford Lock is short but beautiful. Marvel at the gorgeous Georgian homes on one side of the river, and take in the fauna and flora of the other side – the geese and swans protecting their nests, the oak trees with their roots making the ground slightly difficult but reminding you of their ancient standing, and cows grazing the open fields.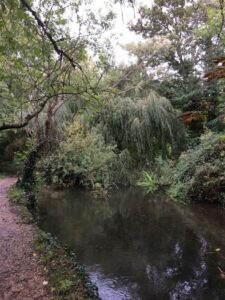 I remember Twyford Lock well – it's a place I went to a lot as a child (the council have been keen on making the water accessible and dog-dips are plenty) to enjoy beautiful summer's days, and I'm glad to see that continued by kids today. Fields are easily accessible from the lock and benches are dotted around, so if you've got a picnic and nowhere to be, be ready to spend a while here…
Continuing from Twyford Lock becomes easier – and if you're looking for a shorter easy walk, I'd recommend doing just this bit. The path is surfaced and trees are regularly cut back. You'll be taken under the motorway bridge – remember I mentioned that this walk was a mix of industrial areas and countryside in my first piece! – and alongside a dual carriageway, but signs will clearly point where you need to be and you'll soon be back on a surfaced track.
Before you come to the motorway bridge, there are two paths. You'll want to go over the wooden bridge and towards the motorway to follow my route, but you can go left and up Twyford Road – the original route of the Navigation which was diverted after the motorway was built. 
You are now on the original way into Winchester – Twyford Lane. You'll pass the noteworthy St Catherine's Hill here – a pretty, impressive green hill, which pokes just above the trees, with steps you can climb to the top. The views from St Catherine's Hill are truly beautiful – but at any time you can, you should stop and take in what is around you – chalk downland covered in wildflowers including bird's-foot trefoil, salad burnet, dropwort and several types of orchid to name just a few. St. Cross Hospital's tower will display itself on a clear day, almost a signpost to where you need to go. 
Keep following the surfaced path – which does feel like it takes a while – and you'll end up on the fields of Winchester College. Don't panic! This is where you want to be. The river continues along here and you should be able to spot fish and wildlife swimming and dipping about. I will admit that this veers off of the 'official' Itchen Navigation route – but takes you towards the magnificent Winchester Cathedral and Bishop's Palace, which are worth a stop for.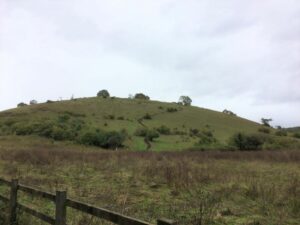 Finishing this walk and ending up in Winchester feels like a real achievement. It's taken me a few months to get round to doing the full thing – and unless you can pick a clear day and start early – I would suggest doing the same! I've loved being able to recount this walk and how it's made me feel through my writing. It's truly one of the most beautiful spots Hampshire has to offer and I'm glad to see it rise in popularity in recent years. 
But now, in Winchester, it's time to catch the train home. 
Cost: Free. Car drivers can park at Shawford Station (charges apply). 
Accessibility: The walk is muddy initially from Shawford but becomes surfaced and level – accessible to all. 
Facilities: A pub in Shawford. Beyond that – nothing, until Winchester!