An exciting exhibition of new works by a group of Southampton-based artists has opened at the city's God's House Tower (GHT), running until Sunday 7th November. The exhibiting artists were recipients of a new, experimental grant programme launched by 'a space' arts in January this year. The ' scheme gave £500 to nine artists in the Southampton area to create of a new artwork or activity.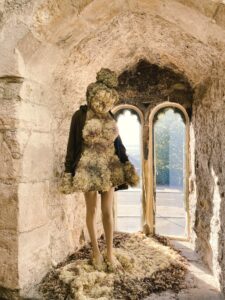 The Lucky Dip grants were awarded by selecting artists, not project proposals. The simple process was aimed at removing barriers around access and inclusion.  The 'a space' arts mission is to work towards becoming an anti-racist organisation. Five of the grants went to support Black or non-Black artists of colour.
As a result, the Lucky Dip exhibition features an eclectic mix of works from music to painting, planting and performance, and captures a wide range of ideas. The artist are Kwame Bakoji-Hume, Issa Loyaan Farrah-Kelly, Claudia Friend, Gullu Kandrou, Maryam Zahra Kazimi, Svetlana Ochkovskaya, Alex Sutherland, Joanna Rose Tidey, and Vin Warrican. Visitors to the launch event were able to meet the artists and discover more about their work. while Issa Loyaan Farrah-Kelly and Svetlana Ochkovskaya performed live.
Mia Delve, Creative Programming Officer for 'a space' arts, said: "We are excited to be able to bring this new show to GHT. The 'a space' arts Lucky Dip scheme provided financial support and a well-needed boost of positivity at a time when many artists were facing unforeseen challenges due to the impact of the pandemic. These bursaries enabled artists to experiment and take risks to push their practice forward, and the results are there to be seen in this great exhibition."
The Lucky Dip exhibition runs until 7th November on GHT's normal opening days (Friday to Sunday).
For more information about the exhibition: godshousetower.org.uk/eventer/lucky-dip/edate/2021-10-15/
For more information about a space arts : aspacearts.org.uk/
Could you help to support In Common, for as little as £1 a month? Please help us to keep on sharing stories that matter with a monthly donation. Visit: https://www.patreon.com/incommonsoton