by Mike Daish.
 On Sunday the 3rd April,  I attended the final event  of Southampton plays for Ukraine, organised by Music in the City's Martin Perry,  at the 1865 in Brunswick Square. What an absolutely brilliant way to spend a few hours on a Sunday afternoon. I think everyone there enjoyed the music from the many talented musicians who gave up their time to perform.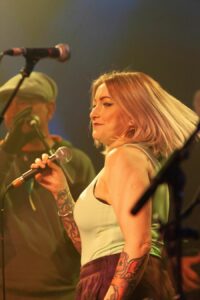 It was nice to see the Mayor Alex Houghton there and he even joined in on stage for the final song.
Thank you everyone who was involved with making this happen, many people must have worked very hard to achieve this. We are all so lucky to have so much amazing local talent, please support live music. Here are a selection of photos from event.
https://www.musicinthecitysouthampton.org/
To donate to the Sounds For Ukraine fundraiser, click here.
Could you help to support In Common, for as little as £1 a month? Please help us to keep on sharing stories that matter with a monthly donation. Visit: https://www.patreon.com/incommonsoton