Phase 2: The Pete Holden Bequest
by Geoff Wall.
Southampton has always boasted an incredibly diverse and prolific local music scene, but lacking any major commercial success or identifiable sound (prior to Craig David and Artful Dodger), the spotlight has fallen elsewhere.  As a consequence, far too many bands have shone for a few glorious moments, only to disappear and become a faded memory.  STICK IT IN YOUR EAR! now hosts a platform dedicated to these long-lost local musical orphans and outcasts….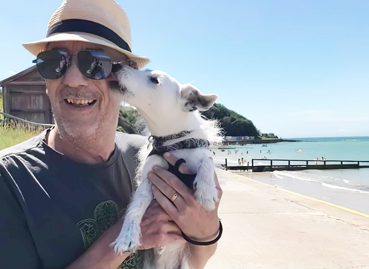 Back in the late-70s, Pete Holden lived just around the corner from "Wall Mansions" where he shared a house, aptly named "Hollywood," with his mates, the Lip Moves/Games To Avoid band.  Pete was their soundman, manager and general factotum, who single-handedly promoted the band and kept their live shows afloat.  He was also a great local music enthusiast who actively supported many other local bands.  It was Pete who roadied for Catch 22 when they supported The Clash on their 16 Tons Tour two local gigs at Portsmouth Guildhall and Poole Arts Centre.  He recounted the story in an old edition of Caught In The Act FREE online music magazine that was later reprinted in Swill Odgers' Men They Couldn't Hang Songbook.
I well recall one particular gig at the Kingsland Hall Student Union building where his beloved Exploding Seagulls were supporting Games To Avoid.  Games topped the bill, and were well in to their set, when the PA went 'live'.  Pete being the evening's soundman, leapt into action but simply couldn't isolate the dangerous electrical fault.  The result being the plug was pulled on the gig.  The SIIYE 'Management' trio of myself, Phil Tyler and Roger Kennedy were standing by the bar at the back of the hall, when Roger, who had the knack of saying the right thing at exactly the wrong time exclaimed, in a voice that was just loud enough to carry to the stage, "If they were any sort of band, they would do a Crosby, Stills & Nash acoustic set!"  If looks could kill, guitarist Simon Vincent's glare from the stage said it all.  But Pete's amused grin showed that he appreciated the humour of the moment.  He always had a smile on his face, regardless of the situation, and his later return visits to Southampton, usually involved dropping by "Wall Mansions" for a catch-up cuppa, accompanied by lots of laughter.
It was Pete who expressed the failings of Southampton's local music scene, and it's lack of supporting infrastructure, to Phil and myself one evening post gig at the Joiners.  He planted the seed that grew in to SIIYE Tapes and our catalogue of 43 local releases.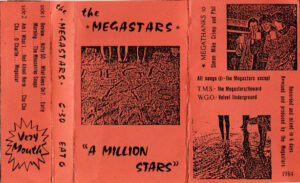 Pete borrowed our Revox, hired a soundboard from ARC Electronics and engineered GTA's magnificent Day 3, Week 2 SIIYE cassette-album in their kitchen.  Upon recently hearing these remastered vintage tapes on the SIIYE website, Pete said that he'd never expected to ever hear them again and that they provided him "pleasure beyond measure."  Thus he inadvertently provided the series title for our second archive of local recordings.
 Pete and GTA formed the Very Mouth label, decamped to London and morphed in to Stitch Back Foot Airman and later Stitch.  For some time, Pete then worked with the WOMAD organisation and began tour managing such artists as the great qawwali singer Nusrat Fateh Ali Khan, and Canadian jazz-blues guitarist Jeff Healy.  All of which stood him in good stead to book acts for the annual Rhythmtree Festival and to promote many local Isle of Wight gigs where he now lived….
Pete had a long struggle with cancer.  Sadly he had a stroke in June 2021 and died shortly afterwards.  Pete bequeathed his cache of local cassette recordings to SIIYE.  These included early studio demos and live sets by Catch 22, The Underdogs, Lip Moves, Games To Avoid, The Poor Batchelor, plus a box of Stitch Back Foot Airman/Stitch live sets.  Phil Tyler spent many hours working his magic on restoring these lost local tapes and deserves all the credit for removing the cobwebs and sprinkling fairy dust over the archive.  Without his skill, enthusiasm and dedication our Pleasure Beyond Measure project simply would not exist.  He and Dave Griffin continue to bring Southampton's forgotten musical heritage to life!!!  Thanks for the memories Pete.
Pleasure Beyond Measure Tapes PBM 013
VARIOUS ARTISTS
"You, The Mouth & The Music: A Very Mouth Compilation"
Pleasure Beyond Measure Tapes PBM 014
THE MEGASTARS
"A Million Stars"
Pleasure Beyond Measure Tapes PBM 015
THE UNDERDOGS & LIP MOVES
"The Underdogs to GTA"
Pleasure Beyond Measure Tapes PBM 016
GAMES TO AVOID
"Hollywood Daze"
We rely on donations from readers to keep In Common running. Could you help to support In Common, for as little as 25p  a week? Please help us to keep on sharing stories that matter with a monthly donation. Visit: https://www.patreon.com/incommonsoton