by Sally Churchward.
A video of Southampton binman Simon Cotton has gone viral after it was shared on social media by Jeremy Corbyn and Shadow Chancellor John McDonnell earlier today (December 2).
Within an hour of being shared by the Labour Party leader, views of the video had shot up to more than 300,000.
The video (which you can watch here) features Simon, a union rep for Unite and Labour Party member and staunch supporter, urging people to vote Labour on December 12, in order to support local government workers, such as grave diggers, parks workers, people who work in adult social care and bin men.
It was shared by Jeremy Corbyn on Facebook and Twitter with the words 'Thank you Simon, I couldn't agree more'. It also been shared by John McDonnell and Shadow Secretary of State for Employment Rights Laura Pidcock as well as various unions and Labour Party parliamentary candidates.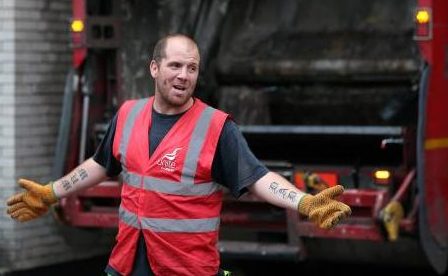 Simon has previously featured in In Common, when he explained how he struggled with severe dyslexia as a youngster growing up in Southampton and returned to education as an adult with the support of his union, going on to become a Unite safety rep and branch political rep, as well as trade union liaison officer for Southampton and Romsey Labour Party.
Simon decided to make a video when he saw a conversation on social media inviting people to make videos about why they were voting Labour. He shot his video immediately, unplanned and unscripted.
"I thought I'd give it a go, so I gave my mate my phone and just spoke from the heart," he said. "When I saw that Jeremy Corbyn had shared it and thanked me, I took it as an honour and a privilege, but it's not about me, it's about working together as a team and a family, to get a Labour government. When Jeremy Corbyn walks through the doors to 10 Downing Street, we all walk through together."
"It's gone mental," he added of the response to his video. "I've never seen my Twitter and Facebook so active, and seeing my face on a Labour Party advert is amazing – it's funny an old binman from Southampton getting all these shares and retweets. But more than anything, if it inspires someone to go out and vote, I'm happy."