by Sally Churchward.
It is central to Southampton's grassroots arts scene. But is it the end of the line for The Art House?
The Art House has helped a lot of people in the 12 years since it was started by a group of creative individuals, who recognised a gap in the city's arts scene, and set about plugging it.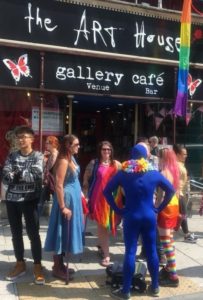 From artists who first showed their work in public on the cafe/gallery/arts space's walls, to volunteers who had their first work experience serving vegan lunch there, from poets who have found a receptive audience, to people who often feel like outsiders, who have found a welcoming and accepting space to be themselves at one of the many groups held at the venue. 
But now, it is The Art House itself that needs help. Running a predominantly (and as of this month, fully) vegan cafe and arts space was never going to be a massively lucrative business. For years, even the team of directors were volunteers, despite it being a full-time job. Takings have always been propped up by donations, either in a pot on the counter at the Above Bar venue, or through The Art House's Patreon scheme. But takings, donations, and regular requests for financial help still aren't making ends meet, and the venue's directors have taken the bold decision, perhaps inspired by their butterfly logo, to metamorphose into something very different.
Long time coming
To do that, they need help. Help to the tune of £25,000.  A huge fundraising push, tagged #notthelastfundraiser, has been launched to raise that money by the end of February. This isn't to keep them afloat. This is to pay for a dramatic shift in their approach, away from a vegan cafe with some art stuff, to an arts venue, which does also offer food. There are changes to the building to be made, a wall to be constructed, a change of direction to be made.  But why now? And if that doesn't happen, what then?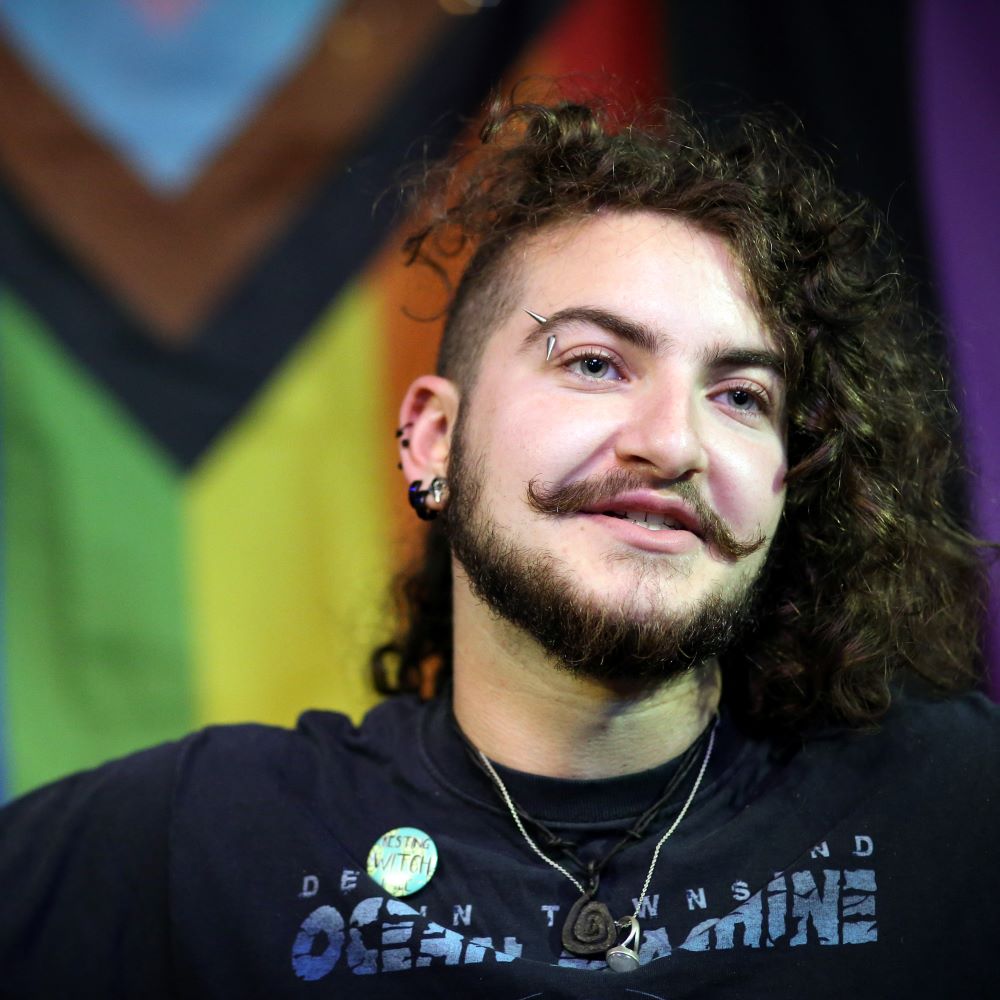 "It's one of those situations we've been able to see coming for a while, and wanted to think it would get better, but we'v e had to make a decision that it's not going to get better without us doing something about it," explains one of the team of four directors, Devin Valentine. "We are in the amber danger zone at the moment."
For a long time, The Art House was one of the only places to get vegan food, particularly cake and lunch, in Southampton. Now, thanks to the growing popularity of veganism, thanks, in part, to Veganuary, it's possible to pick up a vegan snack or meal anywhere from Boots to KFC. And while the directors of The Art House are delighted to see that the movement that they have helped pioneer prospering in the city, it inevitably means a loss of custom for venues like The Art House, and elsewhere in the country, vegan establishments have been forced to close their doors, despite the growing interest in veganism.
"Our response to the challenge has to be dynamic," says Devin. "We don't want to compete with the places doing fast food. We want to keep our style and focus on whole foods, not fast food, but we need to streamline the whole thing."
Another issue, notes Devin, is that changes to benefit systems mean that people can volunteer far less without it affecting their benefits, and running the cafe in the way they have done up to now has been heavy on volunteers, which itself is unsustainable.
Metamorphosis
More important than simply overhauling the menu, explain Devin and fellow director Jani Franck, is a shift in focus, with food supporting the art, rather than it being the main focus. Devin adds that if the fundraising target isn't hit, that doesn't mean that The Art House will immediately close its doors, but it does mean that a substantial overhaul won't be possible, and any money raised will be used to sustain the business for as long as possible – but the sense is that that will be a limited amount of time. "The cafe side takes up so much of our physical and mental time," says Devin. "Being vegan is important, but the main point is the art and that's what we want to focus on."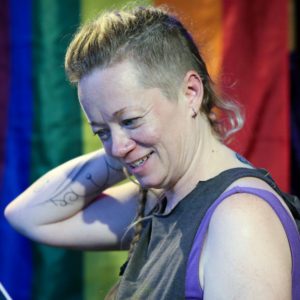 Jani, who is one of the founding directors, admits that asking for help in this way hasn't been easy.  "It's hard to talk about," Jani says. "One of the reasons lots of venues just close is that it's hard to go to your community and ask for help. It puts you in a vulnerable position. Talking about money is challenging. It's not something we're 'supposed' to do."
Jani adds that the fundraiser is, however, more than just asking for help. It's asking the community what it wants from The Art House if, indeed, it wants it at all. "The fundraiser is a question," they say. "We love The Art House. We don't want to stop. But through the fundraiser we are asking the city if it still wants us. Have we served our purpose? More vegan food is available in the city, and in the time since we opened, the city has improved in terms of culture and art too. That might mean that we've done our work, and that it's time for us to do something different. But," they add, "we have been getting so many positive messages and at the moment, we are on target to reach our goal before the end of the month, if donations keep up."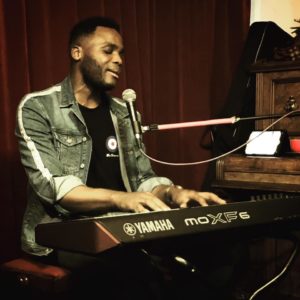 At the last count, the fundraising total had hit £7,215. This includes some substantial individual donations, including one of £1000, while recently performer Estelle Clarke donated the proceeds from her show at The Art House to the fundraiser.
Jani adds that one of the messages that they keep getting is that The Art House offers a safe space for people, particularly those who feel marginalised. "I created the space I needed and found out that other people needed it too," Jani says. "I never felt like I fitted in anywhere. I felt I was on the outside. It turns out there are a lot of us who feel that way. The Art House offers a welcoming space to be and also to self express, explore, go into the margins and look at different approaches."
An alternative space
For Devin, the alternative space offered by The Art House is, arguably, more important now than ever. "There's almost nowhere else in the city that you can go to and get away from relentless capitalism," he says. "We are operating within that system but we don't want to just push people to buy things."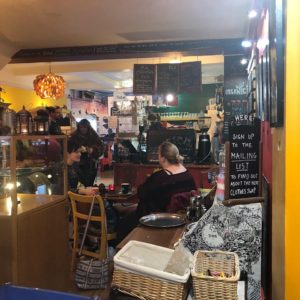 He agrees with Jani that The Art House also offers a valuable space for people to be themselves. "You can sometimes hear people breathe a sign of relief when they come in here, especially if they are new to the city. It's a little oasis. And recently, when difficult things have happened, it's been a refuge for people to come to.
"Without The Art House, the city would become much more drab and darker. Yes, there would be the Cultural Quarter, but what about a space for local people, where they feel they can go to, make a difference, and be heard?" says Devin.
Jani adds: "this is somewhere where people can come and make friends. It can be hard to do that as an adult – there are epidemic levels of loneliness in the city, to it's really important to be able to help people be able to talk to each other.
They continue: "So many people have started their artistic career here before going on to bigger things, and you need places where people can start out – otherwise nothing new will happen. There is a tradition of spaces for artists to gather, and try new things. There have been places like ours throughout the history of visual art, my field, for instance the explosion of culture a century plus ago in Paris happened in cafes. These people were marginalised, queer, people on the outside. It's about creating a container for that – you need a room to make that happen.
"If we don't have spaces like The Art House, then life becomes about commerce/work/home. What is it all for without art?"
The Art House needs you!
If you want to help The Art House, you can do so in a number of ways. 
1 Donate. Donations of as small as the cost of a cup of tea upwards can be made via https://thearthousesouthampton.org/donate/
2 Volunteer. The Art House needs more hands on deck. Jani is keen to emphasise that they aren't seeking business advice but need practical, on site help.
3 Visit. Go to a gig, a poetry reading, a group or just pop in for lunch. On February 29, The Art House is holding a fundraising mini festival, an afternoon and evening of performance, art and fun. It's a ticketed event, so get yours soon, by clicking here. 
4 Share the fundraiser. Share events. Send in a review via The Art House's Facebook page. Help them save money on advertising by helping to get the word out yourself.