by Martin Brisland.
A record of a unique moment in time by photographer Katherine Mills.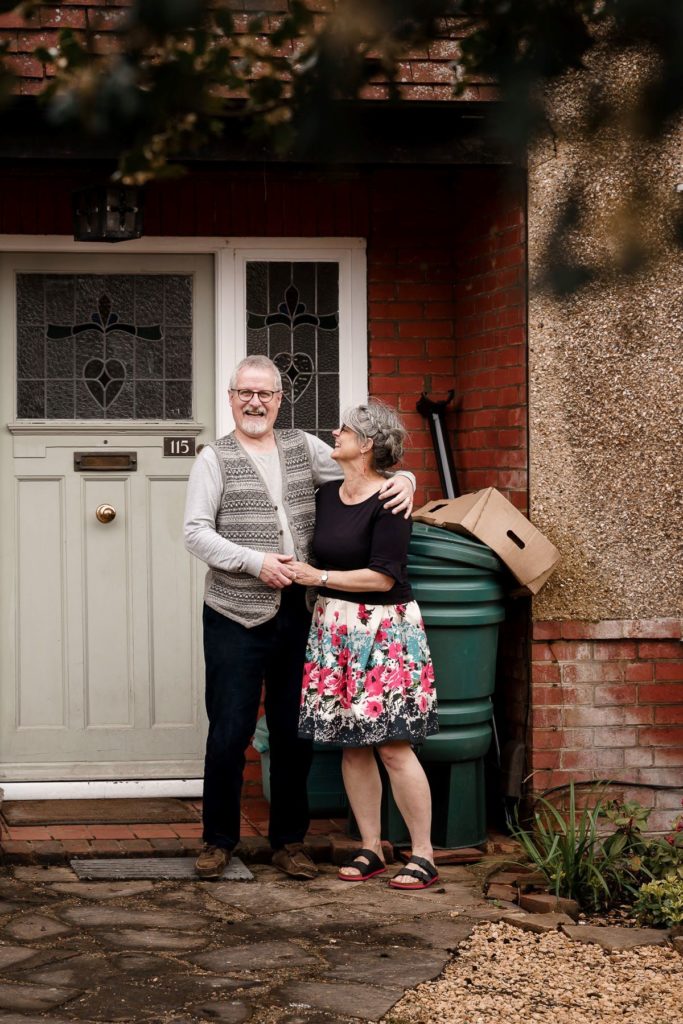 We have all been affected by the coronavirus pandemic in some way. For a local photographer who would typically be earning from weddings and family occasions at this time of year it means creative thinking to come up with ways to keep working.
Like all good ideas the Doorstep Portraits Project is very simple – to make a photographic record of people in front of their homes that they have been spending so much time in. The pictures were free but people were asked to give a donation to NHS charities as a way of saying thank you.
These Southampton doorstep portraits will document for future generations how we have all been doing our part by staying at home to help stop the spread of the virus. 
 Before arriving Katherine informed participants by email:
"If you live around the Shirley/Millbrook area of Southampton I may be able to include you on a walk. If you live further away, I will try and get to you by bike when I have a few people interested in your area and can do them in one go. 

We will keep to social distancing rules at all times. I don't want to be putting anyone at risk with this project. I will arrange a time I will be outside your house. I will stay on the pavement at all times and take a portrait of you at your front doorway. We will have a quick chat. The whole process should only take about 5 minutes. If you are able, please follow the link below to my

Just Giving page

and leave a donation for the NHS Charities in return for your portrait. I appreciate this is a hard time for everyone but just give as much as you can."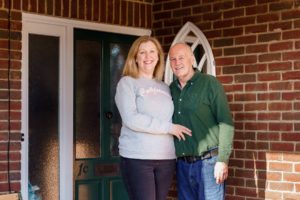 I was one of the many Southampton residents who have responded to Katherine's invitation. On the arranged day Katherine duly kept social distance and took quite a few pictures. She is the type of person to immediately put you at your ease which leads to natural pictures and conversation.
Within a few days the free low resolution copies duly arrived. We were very pleased with them and have bought several high resolution copies to display at home. Katherine has an excellent photographer's eye for detail.
 In my case I started my self isolation on Thursday 12th March. This was before the start of the government lockdown but it was obvious at that time  "Something wicked this way comes." I have far too many 'pre-existing conditions' so I was not taking any chances. Admittedly as Benjamin Franklin wrote in 1789: "in this world nothing can be said to be certain, except death and taxes." Death and taxes may be inevitable but I will try to avoid the former for a while yet and I was determined to minimise the risk from coronavirus through self isolation.
 Katherine Mills initially trained as a museum curator and worked in the heritage sector across Hampshire for 10 years. She also developed her photography skills into a local wedding and family photography business, Katherine and her Camera.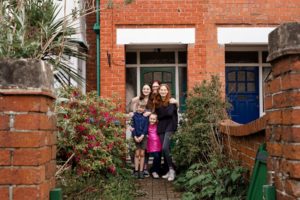 When the Coronavirus pandemic hit, all the bookings she had worked so hard to build up had to be postponed or cancelled. The business ground to a halt and anxiety kicked in. After a few weeks of not knowing what to do and feeling in a slump, Katherine saw another photographer in Sheffield offering socially distant portraits and inspiration struck for a local Doorstep Portraits Project. This combined her two passions, history and photography, so when taking the portraits people were asked to share their experience of living through the pandemic and lockdown. People's words combined with their portraits will capture a visual time capsule of what everyday life was like in Southampton during this unprecedented springtime. 
Homes were visited during her daily exercise, working through an area at a time. Some photographs were taken of people on their birthdays and wedding anniversaries, giving them a special memory of a significant year.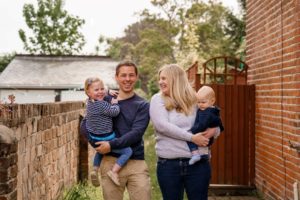 As a trained curator, Katherine knows how important these personal insights will be when looking back at this strange time in years to come. Yes, we will have the official statistics, what plans were put in place and how well or otherwise the Government dealt with the situation, but we also need to record individual memories and feelings. These are what people will relate to when we look back at this time, what will make it feel real.
Katherine says that the Doorstep Project is having a huge impact on her: "I am meeting some truly wonderful people and learning about how life has changed for them over the past few months. Talking to people in my local community and doing something which takes me out of my own personal bubble has helped shift my focus and given me a huge bump of positivity, which I wasn't expecting.
"I could not be more grateful to everyone who has taken part in the project, for wanting to share their stories, being a part of history, donating (£430 and counting) to NHS charities and saving one little photographer from a full on meltdown!"