by Sally Churchward.
As a child, Donna Mcghie had been allowed to paint whatever she wanted on a wall of her bedroom. She grew up with a love of art, so when she decided that working in social and inclusion work was no longer for her, she returned to her first love. 
"I'd always used art in one way or another in my work, especially with young children," says Donna, who lives in Eastleigh and has a studio in Southampton.
"I knew it was time for a change. I'm very much into preventative work and felt that that was changing so I decided to do something different."
Donna started out painting freehand murals for people, but now, although she does still paint murals and also creates her own work and takes commissions, a large proportion of her work as an artist is running workshops for others.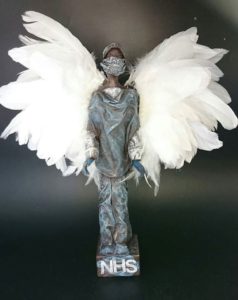 "What I do definitely isn't art therapy, but at the end of a workshop, someone always says that they really needed it. Obviously, not everyone is looking for a therapeutic experience, but sometimes it organically occurs. A lot of people are very busy, and they're not used to taking time out to focus on something for themselves."
Although initially Donna's focus was murals, she attended a workshop in Powertex, learning how to sculpt using fabric, and went on to train in the craft, and now runs workshops as well as training others to be tutors. 
Four years ago, Donna's husband underwent a heart transplant, and since then, she has run some special Art 4A Heart workshops, where she donated £5 per student to the hospital which treated her husband. 
She's found lockdown frustrating, as her husband is in a high risk category so they have had to totally isolate, and she hasn't been able to run her regular workshops, meaning that she hasn't been making her regular donations to the charity. She says it has, however, dragged her 'kicking and screaming' into using 21st century technology, with her learning how to give tutorials and run workshops online.
"I'm a bit of a luddite with technology, so it's been good for me to get to grips with," she says.
She currently has an online tutorial to make an angel that can be purchased on its own or with the necessary materials, and is doing free mini tutorials on her Facebook page.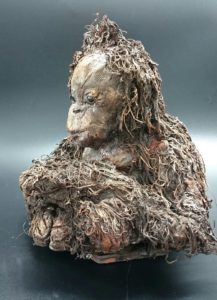 Much of the work Donna sells is commissions, particularly turning old boots into garden ornaments. "Often people bring an old boot that belonged to a loved one who has passed away."
One of her own pieces, NHS Angel, will be part of a sale at The Point in Eastleigh, to raise money for NHS charities and local foodbanks.
Donna says another benefit to lockdown has been having more time to create art for pleasure, and has found herself starting with splashes of paint, which she then draws into. "I realise a lot of my work has a touch of melancholy now, which is OK as it's where I am now," she says.
Donna says she feels very fortunate to be able to make a living as an artist. "I'm not walking round in designer clothes, for sure, but I feel very lucky to be able to do something I love. I especially love the workshops, as I really enjoy seeing people who don't think they are artistic coming out with something they have created."
Her work is on show at Frith Dimension Gallery from August 1 https://www.frith-dimension.co.uk/