by Lewis MacLean.
Immigration is a contentious issue for some and wishy-washy for others. In reality, things never change for the refugees themselves.
After years of the press reporting on desperate immigrants losing their lives when attempting to cross the Mediterranean, the English Channel is now the focus. The result is a steep rise in  negative anti-immigration rhetoric, stirring the pot of mainstream UK politics. This seamlessly engineered political clockwork fails to realise that the issue of immigration can and has always been boiled down to one simple truth: people cannot choose where they are born in this world.
Therefore, most immigrants or refugees are simply people who want to live. Those stranded in a strange and foreign land needing help, even after having struggled through the harshest experiences imaginable, are often fleeing from very dire and tragic lives.
There are often multiple social and political reasons why people become refugees, but many decent people are often unaware of these tragic circumstances. Often relying on reports from established media sources that mirror extreme xenophobic politics for the purpose of inciting it, much in the vein of Noam Chomsky's Manufacturing Consent. 
Certainly, the debate is not going away and I had heard a lot about charity Care4Calais, who distribute to the refugee camps in Northern France. I followed them online for a while to see what they are all about. Coming from a coastal South England town my interaction with refugees has been limited. Yet Calais is only a train or ferry ride away. So I decided to volunteer and bear witness to the situation in Calais for myself.
I am glad I did.
 At the camp
The basic set up behind Care4 Calais  is an efficiently organised and coordinated effort to supply people who have nothing, with what they need, on an ever-changing basis.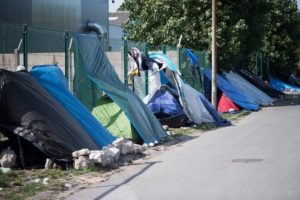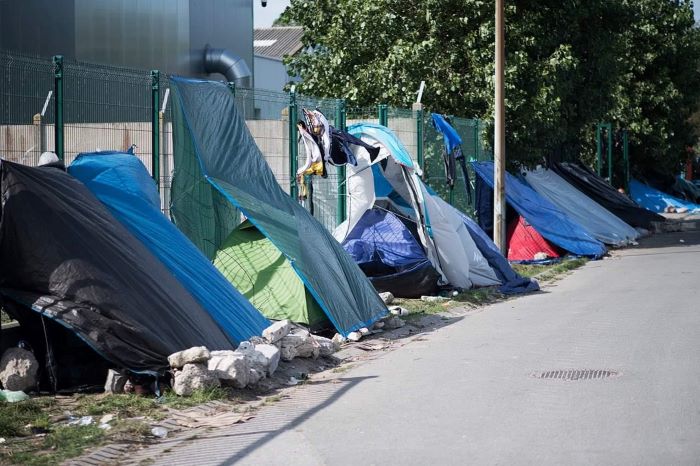 The mornings are spent in the warehouse sorting items and preparing for distribution in the afternoons. The scope and scale of the distributions differ from day to day but anything including blankets, tents, coats and even tinned food is given out in the camps. I soon learned that the quantity and nature of items changes on an almost daily basis, adapting to ever-changing needs and demands of people in the camps. My first memory was the overwhelming sight of hundreds of refugees rushing to the Care4Calais van when it arrived. All the charity was giving out that day were coats or backpacks* so already the myth of the luxurious, well dressed 'economic migrant' peddled by certain British newspapers, was shattered on day one.
Different volunteers bring different skills and abilities to the cause and I am relieved to say the best people out there bring endless amounts of compassion and affection with them. This seems to be a form of donation that is appreciated as much as the food, clothes and shelter.
I was a British citizen, in France, negotiating the cultural contrast in another country. Any mild discomfort outside of my comfort zone was instantly insignificant next to the environment I spent the coming fortnight in. I reflected on the simple concept of being in a field in Calais somewhere but these refugees were temporarily existing between borders. They were forgotten and alone but certainly brave and inspirational.
By the end of a two week period, it was hard not to be overwhelmed by the positivity and resilience of the people we came to help. Truth be told, they could help themselves easily once they had what they needed. Hearing the hilarious banter amongst people who had crossed a continent and fled war-torn countries, whilst negotiating them into a socially distanced queue, was unexpectedly upbeat and hilarious. I am not saying there wasn't any tension but I certainly learned a thing or two about how toxic the culture is back home. I gained a new perspective on what is important in life. Also, watching people play a game of football alongside a cricket match, simultaneously encroaching on shared space without grievance or territory was an eye-opener. It even brought a sense of harmony that I had never equated with sport before. I caught one chap whistling joyfully as he strolled across the games and sat on the ground to eat dinner with tiny portions, which brought a smile to my face. It helped distract from reflecting on the grim reality of the situation, which would easily crush your spirit, if you let it, even as a mere spectator.
(I was and remain conscious of just how privileged my perspective is and constantly acknowledge that it is easy for me to dip in and out of this experience, simply because it is not my reality.)
My usual reaction to this level of injustice is anger, so god knows how these guys get through it day after day. Each individual experience varies but one guy I spoke to has been living like this for four years.  Some even came back from England to return here, few did so willingly.
I can certainly tell you that whatever you read or hear, the living conditions of many refugees is below squalor and often not their choice. Groups of people living under tarpaulin sheets propped up against fences with bricks is not the lavish lifestyle of refugees living off state benefits that is being presented back home. This is an extreme level of poverty in any country, let alone western 'civilisation'.
There are regular hot meals provided by official French agencies and other charities contribute to support and services but whatever goodwill and spirit they bring, regular and reportedly hostile evictions easily ruin.
I cannot claim to have seen any of the horrifying scenes I heard about, but I can testify to the anxious body language of several refugees, and the signs of trauma in the eyes of a young teenager when he jumped back startled and cowering, after I tapped him on the shoulder.  On one distribution after trying several times to find a coat to fit one guy, he apologised for causing a nuisance. A man living in a field under sheets and rocks apologised for trying on coats. When they could not find coats to fit, many simply walked away in acceptance, remaining coatless for the upcoming cold winter months. The reason why many coats did not fit is that the refugees were strikingly undernourished.
Privilege does not exist here. The refugees rely on charities. The charities rely on donations. The politics behind terminology like 'economic migrants' needs to be buried.
 On my last evening in Calais, I got talking to a local at the pub. He had a more negative perception of the issue and shared a brief example of an incident that quite frankly, if true, doesn't portray the individual in a good light. I accepted his testimony at face value and even agreed to watch the YouTube videos he suggested, but his experience was at odds with mine over the previous two weeks. Sure, he lives in Calais and I am only visiting but surely the only balanced perspective one can have is that not all people are the same and people are people no matter where you go.   
So, why are refugees judged differently? It seems to me that if they are not seen as 'people,' it is easier for the politics to blind people from this logic. This makes it easier to cultivate a political agenda that ignores them. Where the politics treads, much of the media follows.
My experience at Calais is likely to remain with me forever, but I can choose to walk away from it. I can choose to turn off, as I am watching TV in a warm bedroom, whilst others sleep under the September rain beneath tarpaulin sheets. You may turn off too as we're only human, but at least there is a way to help. 
https://care4calais.org/donate-now/
[*Many Refugees reportedly have their belongings confiscated at an alarming rate, so the tarpaulin sheets make for portable shelter which is required presumably for gathering up belongings and moving everything you have at the last minute.]