by Sally Churchward.
Local people took to the streets yesterday (October 13, 2020) in an anti racism protest. The rally was held in response to what police believe was a racially motivated attack in which a man was stabbed and a woman was injured, last week.
The incident took place last night Thursday, when a group of up to six people on mopeds surrounded a man and woman who were walking on Tangmere Drive, Southampton. The gang were reported to have racially abused the pair before the attack, which saw the man taken to hospital for stab wounds.
Around 40 protesters gathered at Sainsburys in Lordshill, where they took the knee, before marching to nearby Tangmere Drive, in a peaceful, socially distanced rally.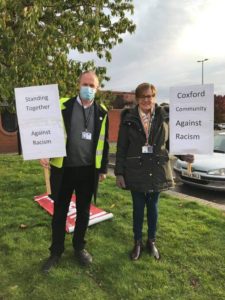 Among the protesters was Councillor Tammy Thomas, who organised the rally alongside fellow Labour Party Coxford Councillor Barrie Margetts.
She said: "I was alerted to the incident shortly after it happened and spoke with Barrie. He very quickly and efficiently arranged for a safe, peaceful rally.
"It was important to us, as ward councillors, to send a clear message to the family: we support you and walk with you, and to the perpetrators; we will not tolerate racial hatred in our community.
"We acknowledge the underfunding and overstretched police, the lack of youth services and provisions, we want to create community cohesion, especially in these unprecedented times."
Speakers included Gwendoline Barrett-Gordon and Steve Quibbs of Southampton Stand Up To Racism, who said: "This has been the year in which the racism that is endemic in society has been laid bare for everyone to see.
"It's got to be a turning point. No-one should be afraid to walk the streets because of the colour of their skin or the language they speak."
Tammy added: "The rally was also attended by local talent, Tyrone Gordon, of FooR, a great advocate of peace and positivity."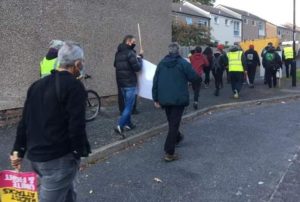 Charlotte Ndupuechi, who also took part in the event, said: "This was a small-scale, outside demonstration with socially distancing in place and where everybody wearing a face covering. I personally felt it was important to attend to show support to the victims family.
"We all want to live in a place with safe streets, where we can walk around without fear of being attacked by gangs on mopeds.
"This was a very moving demonstration, we walked up to the site where the attack took place. I like to think we live in a society that cares about each other. This shocking act of racism and violence should not be tolerated."