by Sally Churchward.
Activists gathered in Southampton Guildhall Square yesterday (October 24) to protest against police brutality in Nigeria. The demonstration was called to protest against a police unit, the Special Anti-Robbery Squad, SARS. The event was held in solidarity with protests that have been held against the unit over the past fortnight in Lagos, Nigeria. A number of protesters at the Nigerian demonstrations have been shot dead by police, according to reports by Amnesty International and the United Nations. End SARS demonstrations were also held in London yesterday.
Protesters said that the Southampton demonstration went well and was an important show of solidarity with the people of Nigeria, but were disappointed by some reactions to the event on social media.
A 2016 report by Amnesty International found Sars was "responsible for widespread torture and other cruel, inhuman or degrading treatment…such methods include severe beating, hanging, starvation, shooting in the legs, mock executive and threat of execution".
Nigerian authorities said that Sars would be reformed, but an Amnesty report June this year,  documented at least 82 cases of torture, ill-treatment and extra-judicial execution by Sars between January 2017 and May 2020 and noted that Nigerian authorities had failed to prosecute a single officer as a result.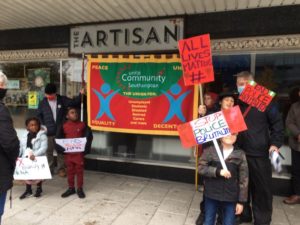 One of those attending the Southampton demonstration was Charlotte Ndupuechi. She said: "After attending the rally I was saddened to read what had been written on social media and in media comment sections. People seemed to think it was ok to use this as an excuse to be openly racist. Comments such as "go home" and "what does this have to do with England" were common. Maybe I am naive, but I was actually shocked to see the comments.
"I wonder if these were the same people, who, after the terrorist attacks in Paris, changed their profile pictures to the French flag in a show of solidarity, but for some reason scorned this show of support. I wonder what the difference is? Is the colour of people skin so strongly linked to how outraged people are by acts of violence and suffering around the world?
"To me it was important to attend. Nigeria has been robed and brutalised for too long. Enough is enough. Even if our small-scale demonstration is seen by just one person in Nigeria, I hope it gives them strength to see that the world is listening, and we stand with them."