by Geoff Wall.
January 2021 sees Southampton's very own STICK IT IN YOUR EAR! musical enterprise celebrate its 40th anniversary with the publication of STICK IT WHERE? – the illustrated history of Stick It In Your Ear! ….and other true stories – a 500+ page CD-rom e-book that's directly available from www.siiye.co.uk
More by accident than design, for some eight years, SIIYE! stood at the epicentre of the Southampton music scene.  Who'd have thought that a small, parochial tape label and its companion free monthly newsletters could have been so loved and respected.  During this period, SIIYE! released some 43 albums, EPs and singles, all in a cassette-only format.  Never before, or since, has a local label been dedicated to exploring so many different musical genres.  We [Geoff Wall, Phil Tyler and Roger Kennedy] embraced the cities' diversity.  Southampton Ruled!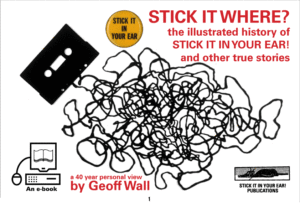 Everything comes from a local scene to produce a national interconnected scene.  We tried to map all of the cities different genres, and in the process SIIYE! in effect created a musical overview.  SIIYE! was a snapshot of one place in amongst many – a model to other communities.
This project's been a long time coming but we finally made it.  In this 500+ page special anniversary e-book, we leaf though four decades of SIIYE's back pages to hear how we kept on an even keel in choppy musical and financial seas.  Looking back over the life and times of SIIYE, we take a deep dive into the history of the enterprise and its impact on the local and international music scene.
Originating in 1981 with the SIIYE! fanzine, the local enterprise expanded to include SIIYE TAPES and EAR TO THE GROUND free monthly music magazine.  This in turn led to the EAR-RESITIBLE MUSIC PARTIES, a series of monthly gigs, underwritten by the City Council, promoting local bands.  In 2008, our successful free online music magazine CAUGHT IN THE ACT was launched on the web, together with a growing number of music CD-rom e-books.  Thanks to Phil, recent activity has been the posting of our SIIYE Tapes' catalogue, together with PLEASURE BEYOND MEASURE, a growing collection of previously unreleased vintage local tapes.  All have been included within the STICK IT WHERE? story.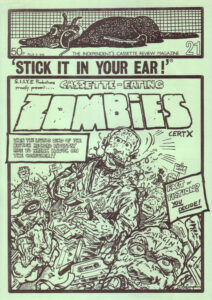 As someone who prides himself on never going back and always looking forward, this illustrated history of SIIYE! has been an enjoyable voyage of re-discovery.  Talking to Phil and others, re-reading the back-issues, going through the paperwork, and listening to the tape archive, has awoken many long-forgotten memories.  Most have been included within this text.  I've named the guilty and justly emphasised their mammoth contributions to SIIYE! Enterprises plc.  Hopefully I've not forgotten anyone but if I have then it's just another 'senior moment' on my part.  Sorry.
I look back on the past 40 years with a great sense of achievement, satisfaction and pride.  Our collective enthusiasm carried the day.  I hope that SIIYE's legacy is still there to be enjoyed.  We have achieved so much…. and there's more to come.
"IT'S TOO LATE TO STOP NOW!"
Southampton has always bosted an incredible diverse and prolific local music scene, but lacking any major commercial success or identifiable sound, the spotlight has fallen elsewhere.  As a consequence, far to many bands have shone for a few glorious moments, only to disappear and become a faded memory.  SIIYE's platform now hosts PLEASURE BEYOND MEASURE dedicated to these long-lost local musical orphans and outcasts.
But celebrating our 40th anniversary isn't just about looking back….  SIIYE! would love to establish a free-to-access platform hosting current local bands.  All we need are today's recordings.  A similar call goes out for forgotten local tapes of yesterday's music.  It's time to get Southampton back on the musical map.  Southampton Rules!!!
Email: info@siiye.co.uk
Website: www.siiye.co.uk
Copies of the data DVD-rom are available for £15 incl p&p directly from the website.
A few pages from Stick It Where? – the illustrated history of SIIYE! have been posted on the website and can be freely viewed @ http://www.siiye.co.uk/book_adv/PAGE_002.html