by The Art House crew.
Covid update from The Art House, 178 Above Bar St, Southampton in response to indications that all social distancing and masking will be lifted on 19 July.
We will be keeping our masks on, asking customers to wear face coverings when not at tables or when visiting the pantry and boutique (unless medically exempt) and our other safety measures will stay in place and our events socially distanced after 19 July.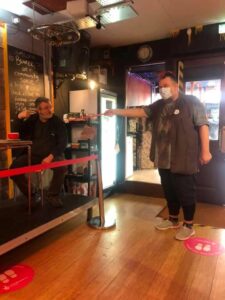 We'll also continue to do online only shows and make our in person shows accessible from home as much as possible.
Behind the scenes, our admin team continue to work from home and our teams are segregated for extra safety.
This has been agreed by all of our crew because we want people to be as safe as possible here. We do not share the view that some people dying of Covid is worth it to reopen fully before it is safe, and we believe and listen to scientists.
Our space will continue to operate a community pantry to feed folks in need, share pay-as-you-feel vegan meals and create a social space online and offline to keep people connected, informed and entertained through the ongoing pandemic.
We ask our community to continue to donate, pay forward drinks, groceries, toiletries and meals, visit when you can, come to online gigs, share our posts, as things is going to become very difficult for us financially now that all government support for closed businesses has stopped, unless our community hold and support us so that we can be here for you all.
Our love to all of you as we navigate yet another difficult part of this journey for so many. Please get vaccinated. Stay safe and well.