by Jonathan Mitchell.
The way the British government has responded to the Ukrainian refugee crisis has been nothing short of a moral failure. After two weeks of intense and brutal fighting and indiscriminate violent from the Russian forces, as of 16 March only 6,100 refugees have been issued visas (1). This is despite the fact that by this point, tens of thousands of applications have been filed.(2)
The government has maintained a that the Ukrainians need to apply for a visa and need to have family ties to enter the country.(1) These unreasonable demands have only led to two concessions: that refugees don't need to do all the visa processing until they enter the UK and; a sponsorship system that lets people and businesses sponsor Ukrainians to reside or work with them.(3)
This approach of putting the emphasis on individuals, not our collective responsibility enacted by the state propagates the "no more room here we're full" political philosophy that has been fed by a harsh politics. It's pure moral panic. (4) Only 6% of the UK has been built on, (5) which means that any lack of housing is because of a government that refuses to build more social housing. We can't respond to this crisis properly because capitalism doesn't fulfil basic needs, it fulfils financial interests.
Scourge of Imperialism
Russian Imperialism (expanding a nation's influence through any means) is as odious as any other form of imperialism we witness, as with Western or Chinese imperialism. However criticising other power blocs in this time is insensitive to the Ukrainian people who are suffering a violent war of aggression and need our support. It wasn't NATO that invaded Ukraine, it was Russia. Right now, the Ukrainian people need above all else our solidarity.
The Russian government has cynically used justifications such as of "De-nazifying" and de-militarising.(6) Indeed, there is a growing far-right in Ukraine, where else do we find the far-right? In Russia, in Britain and the US and many other nations. There's a strong argument that Russia simply wants to carve Ukraine up so they access it's resources unvetted and control all their ports around the Black Sea.
The destruction of public buildings such as hospitals(7) and the use of white phosphorus(9) are not the signs of a nation wishing to demilitarise, but a dictator waging an imperialist war with maximum damage.
Peace must be pursued at all avenues. Putin is a particularly chaotic actor when it comes to foreign policy. His behaviour in Syria was indicative of that, where he had the US at the negotiation table for 2 years, only to close them with airstrikes on Syrian rebel positions.(9) Establishing a no-fly zone, as experts have said, would almost certainly lead to military escalation between nuclear powers. That is simply not a viable option for all people.(10)
Solidarity with the Oppressed
To see ordinary people offer their spare rooms, to offer clothes and food and money and to offer to go to Ukraine to support those fleeing the war is heart-warming. It is continually contrasted by a government and opposition that wants visa conditions for these refugees to come here.(11) There should be no visas and an end to the abhorrent 'No recourse to public funds' (NRPF), which deny's people's access to benefits, housing and legal aid based on different conditions.(12) The government has stated that NRPF would apply to these refugees after three years of residency.(13)
I am also concerned by plan to give "sponsors" of homes £350 a month, for up to 12 months.(11) Though seems like a nice idea, my concern is that it would be vulnerable to exploitation. After the scheme ends, will we see mass evictions? The system doesn't guarantee anything and so leaves already vulnerable people in a precarious position.*
Reverence to the Organisers
The work done by Polish community groups across the UK, including Southampton, is incredible and we owe them all the support we can muster. The operation has expanded daily by the generosity of this city.(14)
At our March meeting, Momentum Southampton members voted to support and affiliate to the to the Ukrainian Solidarity Campaign (15). This lobbying group has existed for years and now they must show their organising strength.
On 24th March we are hosting a concert for Ukraine, with Sean McGowan and BASH! playing. The proceeds from the event will go to the Polish club in Southampton and the Ukrainian Solidarity Campaign in a 50/50 split.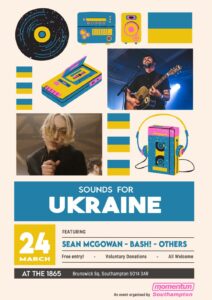 Click the Facebook link here to RSVP and share around.
Can't come or want to support prior to the gig? Donate to our crowdfunder:
https://www.crowdfunder.co.uk/p/sounds-for-ukraine
Could you help to support In Common, for as little as £1 a month? In Common is a not for profit organisation, currently run entirely by volunteers. Please help make us sustainable with a monthly donation. Visit: patreon.com/incommonsoton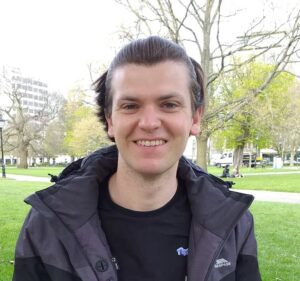 Jonathan Mitchell is Chair of Momentum Southampton. He says: " I'm  a Youth Worker by day, but always an activist. I chair Momentum Southampton and I am a member of the Labour Party, ACORN and UNISON. Lover of Metal, Punk, Soul and Jazz music, I love talking about Halo to the detriment of my friends."
Sources:
* This story was edited on 28/3/2022 to reflect the fact that hosts will receive £350 per month regardless of how many refugees they house.