by Martin Brisland.
Having reviewed a number of shows for In Common, I was at the Mayflower Theatre recently to review Matthew Bourne's brilliant Nutcracker! production. Equal to the high standard of the ballet was a superb full size 24 page glossy programme.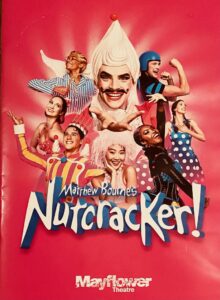 One of the premier theatres outside London, the 2,300 seat Mayflower started as the Empire in 1928 before becoming the Gaumont in 1950 and the Mayflower since 1987.
What is the history behind the programme that has become almost a work of art in its own right?
Single sheet handbills had been the norm since Shakespeare's time. They had originated as smaller versions of posters used to announce the arrival of a theatrical company in a town. We know that Lord Strange's players performed inside the Bargate in the 1590s. Shakespeare was a sometime member of that company so there is a possibility he may have performed in Southampton.
In the late Victorian era, theatre owners and actor managers would offer free programmes and cloakrooms to patrons. By Edwardian times in the early 1900s programmes were more elaborate, even having illustrations of star actors and scenes from a show.
It wasn't until the 1960's that the programme emerged as the collectable souvenir booklet we know today. They contain some local advertising and often interesting articles about the cast and the production.
In the USA the programme was far more reliant on advertising. New Yorker Frank Vance offered theatres free programmes from 1884. However much of the content was the same advertising with minimal information about the individual shows. It was called the Strauss Magazine Theatre Programme until 1934 when it became The Playbill.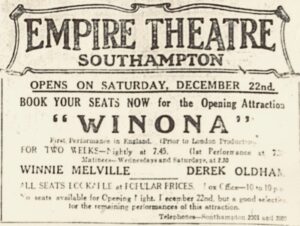 Today in the UK even amateur dramatic companies usually produce a high standard of programme. Whether it is at the Albert Hall or a local village hall the programme can often be a useful social history document to look back on in years to come.
The first play at The Empire, in December 1928 was White Eagle which changed name to Winona a few days before opening – I've no idea why!
We rely on donations from readers to keep In Common running. Could you help to support In Common, for as little as £1 a month? Please help us to keep on sharing stories that matter with a monthly donation. Visit: https://www.patreon.com/incommonsoton