Words: Martin Brisland. Pictures: Mike Daish. Additional pictures: Hannah Barber.
The People's Pride Party in the Park  in Southampton on the 11th and 12th June was a total success. (Read about the event's origins here). The sun was shining for this fully inclusive event, the atmosphere was brilliant and the whole free festival was superbly run. On the Saturday it exceeded all expectations with 5,500 people visiting to join in the fun in Palmerston Park.
Sponsored by Unite the Union there were two days of music, poetry, mental health talks, speakers, graffiti demonstrations, creative art and more such as a surf simulator. Alongside the LGBTQ+ community, there were stalls representing various charities and community organisations such as Board in the City.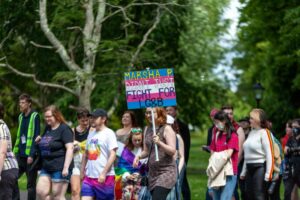 The whole excellent event was very well thought out and marshalled with a music stages, teen zone, kid's area, quiet space, community and food villages and excellent toilet facilities.
Many wore the rainbow flag which was designed by artist and gay rights activist Gilbert Baker in 1978. June is Pride month, as this is the month of the Stonewall Riots in New York in 1969. NYC Police raided the well known gay club in Greenwich Village. This served as a catalyst for the gay rights movement. Others wore the Trans flag which was created by Monica Helms and first flown at the Phoenix, Arizona pride rally in 2000.
June is also the month in which Alan Turing took his own life in 1954 following his trial for a then illegal homosexual relationship. His outstanding work on solving the Enigma Code is thought to have shortened WW2 and saved many lives. Events such as People's Pride, Southampton show that society can change for the better. Really looking forward to next year's event.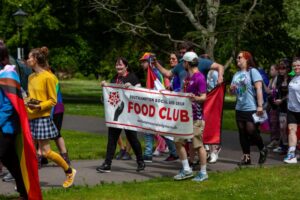 Can you help our funding appeal? We rely on donations from readers to keep In Common running. Could you help to support In Common, for as little as 25p  a week? Please help us to keep on sharing stories that matter with a small monthly donation. Visit: https://www.patreon.com/incommonsoton