by Lew.
Last Sunday, Southampton lost a dear son as Jim O'Sullivan passed away unexpectedly. He was a familiar and beloved person in and around Southampton, particular within the music and arts community. 
His dedication to local music was also proven by his meticulously woven alternative music podcasts. As a man at least a decade older than me, he had endless energy and enthusiasm for gigs that surpassed my own energy levels. He was  physically active, participating in the Southampton Park Run last December.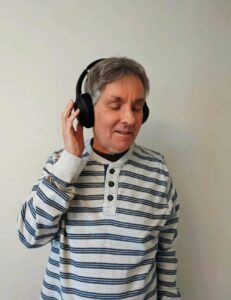 Jim lived with blindness since childhood but any barriers to enjoying life were eroded by his sheer triumphant spirit. Many of the people who accompanied him were amazed by his capability in getting about Southampton unaided and we often forgot about his disability. What everyone noticed was his larger than life personality. His kind spirit, eternal politeness and warm voice drew you into endless hours of captivating conversation. He spent as much time out and about in the open air as he did live gigs, which was a lot. When you were at gigs with Jim, the importance of live music was constantly put into perspective by his enthusiasm for it. 
Jim spent a lot of time involved in community causes and volunteered at The Art House Café in central Southampton. Art House founder Jani Franck recalls Jim fondly:
"Jim was a long term regular and supporter at The Art House and volunteered with us, using his expertise to make our website more accessible. Always ready with a word of encouragement, a quiet and kind man who will be very much missed here."
Jim's friend Asia Pracz used to accompany him to many gigs and remembers them all fondly:
"Jim was one of the kindest, most supportive, inspirational people I have ever met. He was able to talk just about anything and the conversation was always meaningful and interesting. Such a great sense of humour! He generously threw in some sarcastic comments from time to time, but only because I liked them. He was exceptionally thoughtful, interested what I was up to and very caring. Jim remembered if I had something important planned and would always send me a message on the day saying: "good luck!". That was actually the last message I received from him, just a few days before he passed… "Wishing you well for tomorrow Asia". To which I replied: "You are so kind and considerate, Jim!". And he truly was. Despite everything he was going through, he still thought of others. I always felt I was a better person after I'd spent time in his company. He introduced me to so many amazing bands and on multiple occasions gave me the opportunity to enjoy live music, but most of all, his exquisite company. An amazing person with passion, a kind heart and great intelligence. I can't believe we will not go to a gig, for a walk or coffee ever again. That I will never again see him at his usual spot in front of his house, waiting to pick him up… Thank you for our friendship, Jim. I couldn't have been more grateful to have met you and shared some great moments with you. "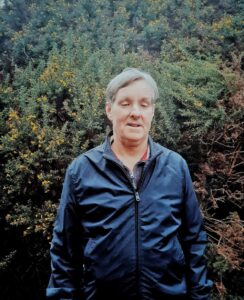 Jim was a master of conversation and could carry words and thoughts around any topic be it life, music, football, books and even progressive politics when prompted. Jim loved to talk but also loved to listen and somehow always held you as the centre of attention. He often interviewed local musicians at gigs and he was great at it because he loved people and people loved him.
Local musician and teacher Dan 'O Farrell recalls one such interview: 
 "I knew Jim a bit from gigs (mine and lots of others) and I went to his flat once to record an episode of his podcast. He was always just a lovely, funny and enthusiastic chap, genuine and supportive. I always felt a bit humbled by the way he did so much for local music whilst coping with his blindness and all the obstacles that must have presented for him attending all the gigs he did. I'm going to miss seeing him at gigs, and his online presence too."
Jim used his natural conversational skills to help promote local musicians and you can see Jim's interview with Dan and other local musicians below. 
So please feel free to delve into his 'Make it Southampton' Facebook page where he spent many hours playing and promoting their music. 
https://www.facebook.com/makeitsouthampton  including his interview with Cat Eliza T who is No relation to Jamie T or Mr.T  (even now, you can still make me laugh Jim!)
Jim even found time for a regular weekly podcast that he worked on relentlessly to bring attention to his favourite upcoming artists. His latest podcast from April is available from Global Voice Radio here: http://www.theglobalvoice.info/gallery.php?show=jaw
Many musicians not only appreciated his support but an equally valuable friendship too. Often the musicians he admired and supported ended-up admiring him more. These friendships made with people at gigs often carried over into other activities of his life, like walks in the park or visit to the beach with Asia, Ellie Price or Charley Stride. He truly became part of their lives and sometimes extended families. It is both reassuring and unsurprising to know he was in upbeat conversation with them in his final days.  Jim was so popular and widely loved by so many.
Local musician Jude Juan Nate writes:" I'll always appreciate the support I got from Jim – playing the music of the various bands I was in over the years, interviewing me on his podcast, buying album downloads and coming to watch my bands perform and give compliments and useful feedback. He was just such a likeable, genial music fan and I always enjoyed it when we went to watch gigs together or found ourselves in the crowd at the same gig. We could always dive right into what songs, albums and bands we liked and why, what gigs we'd been to and gigs either of us planned to see in future. " 
You can hear his interview with Jude here https://www.mixcloud.com/punkajim/jim-chatting-with-the-multi-talented-jude-from-southamptons-zen-juddhism/
Musician Patrick Conner writes: "I have similar memories of Jim to everyone else – meeting him at gigs, taking him to gigs, him interviewing me, playing my music. But my wife Sally-Ann and I will never forget dear Jim because without him we may never have met – he took the photo of me that caught Sally-Ann's eye on match.com. So thank you Jim, you'll be always missed."
Jim was also a keen book reader, his participation in the local book club was always appreciated by friend Anita Foxall: "Jim joined the Art House book club when the first lockdown started and we started meeting on Zoom. We are a core regular group of four people (with others joining in and now and again), but ten minutes in the session, it was clear Jim was straightaway comfortable with us, and became one of the regulars too. He quickly understood that our book club involved speaking about the book, for about 10 to 15 minutes, and then just chatting about everything and anything. That first day, and because we always struggled to find a theme for the following book, we told him that as a welcome, he would have to pick a theme, and his choice was 'a book written by someone called Jim'. I cannot recall which book we chose, but I recall all the nice chats, and the lovely company, as well as Jim being almost always the only one who had read the whole book. Throughout our sessions I discovered that, like me, Jim loved music, and one day when I bumped into him on the Common, we had a nice long chat about music, especially live music we were both missing so much. We, at the book club, will always remember his wittiness, intelligence and enthusiasm, and we will miss him a lot."
I know that many of us, not just in Southampton but likely far beyond, will miss Jim. There is a sea of  lives whom he touched. Many people will most certainly feel the same, if not stronger.  It will be hard to listen and watch local bands live without seeing him there. There is a corner of the Joiners Arms that won't look complete for me, without seeing him standing and nodding to the music. The Joiners manager Pat Muldowney knew Jim for many years and always looked forward to seeing him there. He summed it up when he said the world will be a sadder place without Jim. 
Jim was planning to organise a live music gig to fundraise for a cancer charity and I understand that there are plans to go ahead with this in his honour. Details should be forthcoming soon. 
Our dear friend Jim lost a battle with cancer that consumed even his colossal spirit, but it failed to extinguish the spark he left behind in all that knew and loved him. Many of us still in shock but we are all lucky enough to be able to hear the sound of his voice and remember that cheeky smile when he speaks. 
Can you help our funding appeal? We rely on donations from readers to keep In Common running. Could you help to support In Common, for as little as 25p  a week? Please help us to keep on sharing stories that matter with a monthly donation. Visit: https://www.patreon.com/incommonsoton