By Phil Tyler of SIIYE.
Southampton's Stick it in Your Ear music archive has added three new items to its online archives.
You can read all about Stick it in Your Ear, which started out more than 40 years ago as a small local tape label with accompanying free magazine, here:
Celebrating 40 years of music in Southampton with Stick it Where?
Now three more items have been added to its Pleasure Beyond Measure (PBM) archive, available free on the SIIYE website.
Local musician Sid Carter opened his laptop and gave SIIYE some interesting material. SIIYE have selected three items to put on the free  siiye.co.uk website.
Release One: SIIYE PBM21 The Band Strange Fruit – EP 'Sampaguita'.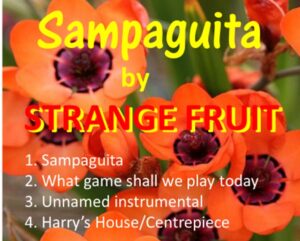 http://www.siiye.co.uk/PBM/PBM21/playaudio.html
Sampaguita is the jasmine from which jasmine tea, symbolic decorations and garlands in eastern culture, particularly in the Philippines, are made. It can also be a name.
Sampaguita is a wild and invasive plant, usually white or yellow. It can come in many colours and forms. This is the reference to strange fruit, the band's name, not to be confused with the Billy Holliday song about racist lynchings in the US Southern United States during the mid-20th century. An Orange Sampaguita cover image is indeed a very strange fruit and do beware the song Sampaguita has a serious earworm. This music is well put together by top Southampton musicians.
The interplay between Rich and Lee's soloing on Chick Corea and Gary Burton's song 'What Game Shal We Play' is so worth listening for. Don't miss Rich's solo on the instrumental track. Rose is scored as an instrument on this one. 
I think the best showcase for Rose is her version of Joni Mitchell's 'Harry's House/Centrepiece' with the thoughtful sensitive sax from Sid and nice guitar from Lee.
Rich Daniels – keyboard
Lee Goodall – guitar and flute
Sid Carter –  soprano & tenor sax and backing vocals
Mick Bull – bass
Rose Cummins – vocals
Rosko – drums
 Sid Carter said of the band: "Rose Cummins was a fine singer! She had worked, at a very young age, with Southampton legend Chris Shakespeare. When we met, she was singing with the Geoff Thomas Band, which was a hugely competent function band. I was singing in the band and was so impressed by Rose's talent that I formed Strange Fruit to showcase her vocal ability. As with Fatz – Strange Fruit boasted an 'all-star' Southampton lineup with the incomparable Lee Goodall on guitar and flute!"
Release Two: SIIYE PBM22 – The Impossible Fatz Dinosaur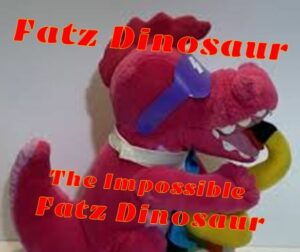 http://www.siiye.co.uk/PBM/PBM22/playaudio.html
 Fatz Dinosaur Four Track EP "The Impossible Fatz Dinosaur" is full of local greats. Despite the poor sound quality, making these tracks available in our archive is sort of what we are here for.
Bob Pearce – vocals
Gerry Hurn – guitar & backing vocals
Pete Smith – bass
Pete Harris – guitar
Richard Cox – keyboard
Steve Groves – drums
Sid Carter – baritone sax, vocal on Help me make it through the night
Tony Wright – tenor sax
Gordon Hillier – trumpet
 Sid Carter says: "This was an over-ambitious (some said impossible) project! There were severe doubts that we would survive long enough to do a gig. Our first gig was at Southampton Show. The first set was a total disaster . . . and the second was a vast improvement. We did a handful of gigs. Pete Harris walked away, and the band drifted to a halt."
Release Three: SIIYE PBM23 –  Sunflower at the Bent Brief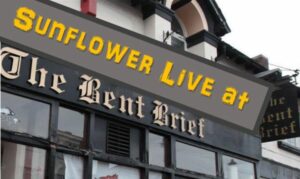 http://www.siiye.co.uk/PBM/PBM23/playaudio.html
 It is brilliant to have such a great live recording by Simon Probyn of this quality band on a night when everything went well. Ten tracks was recorded at the Southampton pub, The Bent Brief, on Lodge Road not long before it closed in February 2015.
 Pete Smith – guitar & vocals
Bob Phillips – bass & vocals
Sid Carter – vocals & sax
Stuart Marshall – drums
Rich Daniels – Nord keyboard
 Sid is in fine form, but it is a pity there is so little sax. There is some lovely thoughtful guitar from Pete Smith, and Rich Daniels knows just what to do. An excellent and very together band at a brilliant gig.
SIIYE Links to some of the artists' other recordings
 Plug 9  Sid Carter – Sunflower:_ "Another Ambition" a Studio Album of 11 tracks
http://www.siiye.co.uk/musicsite/plug9/playaudio.html
 Rich Daniels, Steve Groves
Timepeace "Dogged About Time" 12 tracks live at the Joiners May 1985
http://www.siiye.co.uk/PBM/PBM8/playaudio.html
 Plug 21 – Lee Goodall's "No Quarter" is a beautiful seven-track Jazz Suite
Cassette album [6-tracks 46 mins] Originally released Oct 1982
http://www.siiye.co.uk/musicsite/plug11/playaudio.html
Steve Groves – 'A Band Called "John"' 5 track EP by FF&G (Fulford, Fletcher & Groves
http://www.siiye.co.uk/musicsite/plug34/playaudio.html
Plug 29 "Live at The Railway, Lymington" 14-track Live Recording – Mickey's Rock & Soul Band
We rely on donations from readers to keep In Common running. Could you help to support us for as little as 25p a week? Please help us to carry on offering independent grass roots media. Visit: https://www.patreon.com/incommonsoton